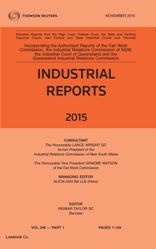 Industrial Reports Parts and Bound Volumes
Report Series

Date: 13/09/2012

Code: 30144141

Lawbook Co., AUSTRALIA

Enquiry Sent

A member of our support team will be in touch with you within 1 business day.

Sales Enquiry Form

Industrial Reports Parts and Bound Volumes

For questions about how to use this product or to get help with your account please visit the Help Centre or Contact Support directly.
Description
The Industrial Reports (IR) are Australia's only specialist full-text case report series on industrial and employment law.
Beginning November 2015, IR will be the official publisher of the authorised decisions of the Industrial Court of Queensland (ICQ) and the Queensland Industrial Relations Commission (QIRC). It is also the only publication featuring the authorised decisions of the Federal Fair Work Commission and the Industrial Relations Commission of NSW.
The series also provides relevant decisions of the High Court, Federal Court, State and Territory Supreme Courts, and Federal and State Industrial Courts and Tribunals. Each reported case includes a detailed headnote written by expert reporters highlighting the key issues and decision in the case.
Online archive begins from Volume 1,allowing users to quickly check the history and current status of every reported decision.
*
Price is for an annual subscription and includes all Parts, Bound Volumes and Consolidated Indexes issued during this period. Does not include the Backset, which is available separately at an additional price. Subscriptions are also available on a charge per volume basis – please contact Thomson Reuters for further details.