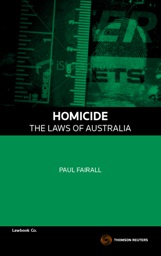 Homicide - The Laws of Australia
Book

Date: 24/04/2012

Code: 9780455228143

Thomson Reuters, AUSTRALIA

Homicide - The Laws of Australia
Description
Homicide – The Laws of Australia is an accessible and innovative text which uses a principles-based approach to analyse the central concepts of the law of homicide in all States and Territories, comparing their application at common law and under the Criminal Codes. Using the latest cases and legislation, this book comprehensively covers the categories of murder, manslaughter and statutory formulations, with discussion on the following topics:

• General Principles
• Homicide – Conduct Elements
• Murder – Mental Element
• Constructive Murder
• Partial Defences to Murder
• Manslaughter
• Procedural Matters and Punishment

This unique work distills and clarifies the key areas of conduct and mental elements for unlawful killings, criminal responsibility for omissions and situations where a homicide may be justified or excused. In particular, this text examines the operation of partial defences to murder, including diminished responsibility or substantial impairment, excessive self-defence, infanticide and the often difficult area of provocation. Substantial consideration is also given to imputed intent in the form of constructive murder, and the diversity of offences falling within the scope of unlawful and dangerous act manslaughter and negligent manslaughter, as well as procedural matters including jury directions on alternative verdicts and punishment.

Author Professor Paul Ames Fairall was recently appointed as Foundation Dean of Law at Curtin University, and served previously as Foundation Dean of Law at the University of South Australia, where the majority of this work was completed. He also served as Dean of Law at James Cook University and at the University of Adelaide, where he held the John Bray Chair of Law. Professor Fairall has provided an eminently useful research tool for practitioners and students alike, which reviews developments in the changing statutory framework as courts and legislatures respond to challenges in this fundamental area of the criminal law.

This material is also published as part of Title 10 "Criminal Offences" of The Laws of Australia legal encyclopaedia.