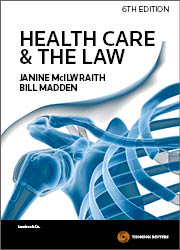 Health Care & the Law 6th edition
Book

Date: 16/04/2014

Code: 9780455232829

Lawbook Co., AUSTRALIA

Health Care & the Law 6th edition
Description
Health Care & the Law, now in its sixth edition, provides a detailed and clear examination of legal processes as they relate to health care professionals throughout Australia, with coverage of all Australian jurisdictions.
This sixth edition has been restructured to make it more accessible to the reader and it has also been updated to reflect the rapid pace of change in law as it relates to health care. The seven parts of the text focus on:
• the law, courts and legal processes
• patients' treatment and consent
• medical liability
• patient information and property
• the health professional
• public health
• crime, discrimination and rights
and it contains new material in separate chapters addressing:
• disciplinary processes and mandatory reporting
• open disclosure
• genetic testing and treatments
With detailed tables of contents, summarised case law, procedural checklists and guidelines, this illuminating, easy-to-read text is an essential resource for health care professionals, teachers and lecturers, students, practitioners and health administrators.
Table of Contents
PART I: THE LAW, COURTS AND LEGAL PROCESSES
1 What is Law?
2 Courts and Jurisdiction
3 Legal Processes and Evidence
4 Coronial Processes
PART II: PATIENTS' TREATMENT AND CONSENT
5 Consent to Health Care by an Adult
6 Consent to Health Care by a Minor
7 Incompetent Persons, Guardianship and Mental Health Law
8 Special Medical Treatments
9 End-of-Life Decisions and Withdrawal of Treatment
PART III: MEDICAL LIABILITY
10 Negligence
11 Informed Consent
PART IV: PATIENT INFORMATION AND PROPERTY
12 Patient Records and Incident Reports
13 Patient Privacy and the Duty of Confidentiality
14 Patients' Property and Commercial Relationships
PART V: THE HEALTH PROFESSIONAL
15 Employment and Contracts for Health Professionals
16 Registration of Health Professionals
17 Disciplinary Processes
18 Mandatory Notifications
19 Open Disclosure
20 Decision-Making by the Health Professional
PART VI: PUBLIC HEALTH
21 Medicines
22 Registration of Birth and Notification of Death
23 Notifiable Diseases
24 Blood Transfusion and Transplants
25 Genetic Testing and Treatments
26 Reproduction, Surrogacy and Termination
PART VII: CRIME, DISCRIMINATION AND RIGHTS
27 Crime and Health Care
28 Child Abuse and Domestic Violence
29 Discrimination
30 Health Care Rights
Appendix 1: A Guide to Abbreviations Used in Law Report Citations
Appendix 2: The Australian Privacy Principles
Appendix 3: Good Medical Practice: A Code of Conduct for Doctors in Australia
Appendix 4: Code of Professional Conduct for Nurses in Australia