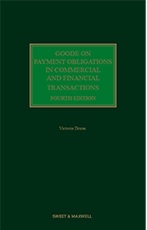 Goode on Payment Obligations 4th Edition
Book

Date: 15/12/2020

Code: 9780414067974

Sweet & Maxwell, UNITED KINGDOM

Goode on Payment Obligations 4th Edition
Description
Goode on Payment Obligations in Commercial and Financial Transactions is the practitioner's essential source of clear and in depth answers for issues concerning monetary obligations. This complete guide sheds light on all forms of payment, the common law and legislative regulation, and the underpinning legal principles.
Key features:
A clear and detailed explanation of the legal principles involved in monetary obligations in commercial transactions
Covers all aspects of payment obligations from the definitions of money and payment through to international inter-bank transfers and foreign money obligations
Offers new insights into familiar problems by rigorous analysis of the underlying legal principles
Analyses the key concepts of money, payment, obligation to pay, the right to payment and defences and remedies regarding payment claims
Explains the stipulations concerning time and interest: express and implied terms, the impact of termination of contract, and the acceleration of liability
Simplifies complex but crucial concepts such as compound interest, payment to an agent, recovery of exchange rate losses and foreign illegality
Provides guidance on complying with anti money-laundering legislation
Introduces electronic and virtual money systems
Enables practitioners to advise on damages and remedies in cross-border transactions
Elucidates the law in Commonwealth jurisdictions and the US, providing a comparative approach to problems which are international in character
Thoroughly up to date revisions of classic lectures by the pre-eminent Sir Roy Goode QC
Table of Contents
Part I: The Concepts of Money Payments and Obligation to Pay.
3, Categories of Payment Obligation.
Part II: The Right to Payment and the Defences to a Payment Claim.
4, The Right to a Payment.
5, Defence to a Liquidated Claim.
6, Remedies for Non-Payment.
7, The Recovery of Payments Made.
Part III: Stipulations as to Time: Interest.
8, The Significance of Stipulations as to Time.
9, Express Stipulations as to Time.
10, Implied Terms as to Time.
11, Termination of Contract for Delay in Payment.
12, Acceleration of Liability.
13, Interest on Contract Debts.
Part IV: The Legal Implications of Inter-Bank Transfers.
14, Method and Structure of Inter-Bank Payment System.
15, The Time of Payment as between Debtor and Creditor.
16, Special Features of International Inter-Bank Transfers.
Part V: Foreign Money Obligations.
17, The Problems Outlined.
18, Performance of the Payment Obligation.
19, Foreign Currency Claim and Judgments.
20, The Applicable Law under English Conflict of Laws.