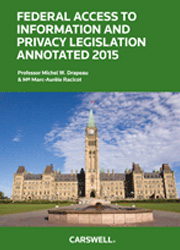 Federal Access to Information and Privacy Legislation Annotated 2015
Book

Date: 28/08/2014

Code: 9780779861309

Carswell, Canada

Federal Access to Information and Privacy Legislation Annotated 2015
Description
Comprehensive in scope, it contains everything you need to interpret and apply federal access to information and privacy legislation. In addition to expert analysis, this practical reference contains a compendium of key materials.
New in the 2015 Edition:
Porter Airlines Inc. v. Canada (Attorney General) (2014 FD 394): In an application dealing with requests for access to information, the Court concluded that the government's prior inadvertent disclosure of any document cannot undermine its confidentiality with respect to the exemption under s. 21(1)(b). Even if a prior inadvertent disclosure were envisioned by the three prong test in Air Atonabee, the prior disclosure relied upon by the Department cannot undermine the confidentiality of the disputed information, because the two do not completely overlap.
Information Commissioner of Canada v. Canada (Attorney General) (2014 FC 133): The Court found that it was arguable that Parliament intended advisory bodies such as the Commissioner to have the right to refer to the Court for determination issues of law that arise throughout the performance of their duties.
Llewellyn v. Canadian Security Intelligence Service (2014 FC 432): Regarding the standard of review, the Court noted that the review is a two-fold process. First, under a standard of correctness, the Court must determine whether the withheld information is exempt under the Act. Then, under a standard of reasonableness, the Court must determine whether the government institution appropriately exercised its discretion not to disclosure said information.