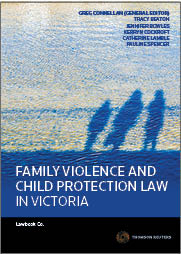 Family Violence & Child Protection Law in Victoria book + ebook
Book+eBook

Date: 30/09/2016

Code: 41934225

Lawbook Co., AUSTRALIA

Family Violence & Child Protection Law in Victoria book + ebook
Description
This publication brings together the important threads of legislation designed to prevent child neglect and abuse, family violence, other forms of personal violence. The work also deals with the procedural and sentencing aspects of the criminal law as it applies to children and young people. It is intended to be a "one stop" guide to the law for those working in the areas of child protection and family violence.
The work provides a guide to the important risk assessment processes essential to the effective investigation of, and responses to, family violence and child neglect and abuse.
Given the significant interaction between the work of Victorian Magistrates' and Children's Court and orders made under the Family Law Act 1975 (Cth), a guide to the interaction between orders made under the Family Violence Protection Act 2008 and orders made under the Commonwealth Act is included.
The work also provides an annotated commentary on the:
Children Youth and Families Act 2005;
Family Violence Protection Act 2008;
Personal Safety Intervention Orders Act 2010
Each of the authors brings many years of experience as practitioners in the fields of family violence and child protection and as authors of legal texts or academic work on these topics.
*
eBooks and packages including an eBook may not be returned once the software key has been supplied. Your rights as a customer to access and use the ProView™ software and a ProView eBook are subject to acceptance of the ProView content licence agreement.
NB
An email with a registration key and instructions for accessing your eBook will be sent after checkout. For existing ProView users the eBook will appear in your library after checkout.

Forthcoming/pre-order eBooks will be available after the publication date.

The ProView app is not currently available on Kindle. See the latest system requirements