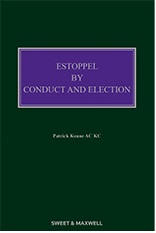 Estoppel by Conduct and Election 3rd Edition
Book

$462.41* $544.01 RRP Save: $81.60 (15%)

Dispatched from overseas. Estimated delivery 3-6 weeks.




Date: 23/06/2023

Code: 9780414114005

Sweet & Maxwell, UNITED KINGDOM

Estoppel by Conduct and Election 3rd Edition

Sale Price:

$462.41

Saving: $81.60

Dispatched from overseas. Estimated delivery 3-6 weeks.
Description
Estoppel by Conduct and Election, originally written by the Honourable K.R. Handley, has been comprehensively reviewed and updated in this third edition by the Honourable Patrick Keane.
The book examines estoppel in the context of commercial transactions and property dealings. It examines election in relation to commercial dealings. It provides a comprehensive but accessible exposition of general principles including a discussion of the particular relationships in which these principles have been applied and developed by the courts.
With the concerns of practising lawyers who advise upon and litigate issues of estoppel in mind, the general principles are stated and illustrated in their application by reference to leading decisions of the higher courts of the Commonwealth of Nations. Where steps in the judicial development remain controversial in point of authority, the controversy is identified and explicated by an in-depth examination of the leading cases.
Key features:
Covers the four categories of estoppel: estoppel by representation, estoppel by convention, proprietary estoppel, and promissory estoppel placing their development in their historical context.
Examines the various relationships in which estoppels may often arise in practice: eg principal and agent, landlord and tenant, bailor and bailee, licensee of intellectual property and bank and customer.
Examines the juridical differences between representation and promise, causation and the relevance of knowledge of rights as distinct from facts.
Examines the practical operation of estoppel in commercial transactions involving companies, insurance and insolvency.
Examines the intersection of estoppel and statute law.
Examines quasi-estoppel and equitable defences including the issue of consent to breach of trust.
Addresses practical matters of pleading and practice that arise in the course of litigating issues of estoppel, and explains how to deploy estoppel as a defence to a claim.
New to this third edition:
There are significant updates on proprietary estoppel relating to property dealings affecting family members, particularly as to the requirement of reasonable reliance and the appropriate measure of pecuniary relief where preclusive effect cannot be given to the estoppel.
There is a significant update in relation to estoppel by convention and its relationship to the other categories of estoppel.
There are significant updates in respect of the requirements for a binding election and the relationship and election.
In relation to the controversial aspects of the law left open by ultimate appellate courts, the current course of development is marked by references to recent decisions of intermediate appellate courts.