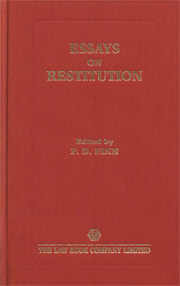 Essays on Restitution - PDF
PDF

Date: 01/06/1990

Code: 30145359

Thomson Reuters, AUSTRALIA

Essays on Restitution - PDF
Description
In the climate of re-appraisal that now affects our common law, new and not-so-new ideas are staking their claim as basal ones in the making and shaping of legal doctrine. "Unjust enrichment" and "restitution"—terms the precise significations of which are not altogether agreed—are among those cast in this role. They suggest for us a number of issues. Are these simply explanatory aids to an understanding of the (or a) burden of some established doctrines? Do they provide signposts to the direction of future doctrinal development? Do they themselves embody discernible principles capable of providing a new and more satisfactory rationalisation for a range of existing
doctrines? Are they merely easy distractions from more precise and sensitive analysis?
What cannot be denied is the powerful attraction that the language of unjust enrichment is exerting today on judges and scholars alike throughout the common law world.
Part of the Finn Essay Series available in PDF. This collection of essays is the product of a small seminar held at the Australian National University in September of 1989.
* By downloading this PDF file you agree to the following:
1. That the file is for your sole use and purpose;
2. You may print this file but only if it is for your personal use;
3. You will not share or make copies of the PDF file (in any format) and will not permit the file to be published or distributed in any other way which is contrary to personal use.
This material is copyright protected and may only be used as noted above. Please contact us if you would like to seek additional permission to reproduce.