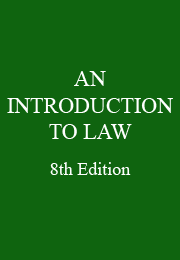 Derham: An Introduction to Law 8th Edition PDF
PDF

Date: 01/08/2000

Code: 30129796

Thomson Reuters, AUSTRALIA

Derham: An Introduction to Law 8th Edition PDF
Description
Renowned for its clear prose, this classic introduction to the law text is written for those embarking on legal study or those who wish to know more about the law and understand its processes and systems. Without oversimplifying legal concepts, the book provides a detailed exploration of Australian law and its historical roots. Designed to introduce readers to the system of law in Australia and its institutions and resources, the text also examines stability and changes in the Australian legal system in the lead up to the centenary of Federation.
Out of print since 2007, this title is now available as a high quality PDF.
Contents Include:
Institutions of the Law.
Our Legal System.
The Sources of Our Law.
The Legal Profession.
The Law Itself.
Ordering the Law.
Public Law. Private Law.
The Fashioning of Law.
Law Making through the Cases.
The Theory of Precedent.
The Interpretation of Legislation.
The Facts and the Law.
The Reasoning of Lawyers.
Conclusion.
What then is Law?
Appendix - Using the Law Library



* By downloading this PDF file you agree to the following:
1. That the file is for your sole use and purpose;
2. You may print this file but only if it is for your personal use;
3. You will not share or make copies of the PDF and will not permit the file to be published or distributed in any other way which is contrary to personal use.
You should note that this material is copyright protected. Please contact us if you would like permission to reproduce this content.