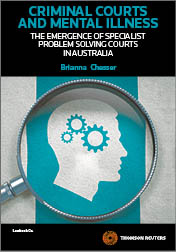 Criminal Courts and Mental Illness
Book

Date: 07/07/2016

Code: 9780455238890

Lawbook Co., AUSTRALIA

Criminal Courts and Mental Illness
Description
Criminal Courts and Mental Illness: The emergence of specialist problem-solving courts in Australia analyses the nexus between the mental health system and the criminal justice system.
In this ground-breaking research, Dr Chesser seeks to place the development of the mental health court into an overall context within society and frames it as a part of continuing historical change in societal attitudes towards mental illness. This book examines the operation of one such mental health list, the Assessment and Referral Court (ARC) List that operates out of the Magistrates' Court of Victoria. This Court List is the first of its kind in Victoria and was created after national and international models were found to be successful. In the first project of its kind for the ARC list, the author was granted exclusive access to extract court data to determine the effectiveness of the list.
The Honourable Paul Coghlan JA - "In this work Dr Brianna Chesser brings her joint disciplinary background, in both law and psychology, to the evaluation of one recent alternative to the question of how we deal with the mentally ill in the criminal justice system. The work also contains a very useful compilation of the law throughout Australia relating to mental illness which is long overdue and which will be helpful to practitioners. It is assessments such as this which will lead us to understand what alternatives exist to deal with the mentally ill offender."
Graham Thomas QC - "Dr Chesser is well qualified to consider crime from the perspective of both a psychologist and a lawyer. Dr Chesser's book is a thoughtful and useful work which enhances the learning for all of us in the criminal justice system."
Table of Contents
Chapter 1 - Key Concepts
Chapter 2 - Treatment of the mentally ill as a social construct
Chapter 3 - The Evolution of Theraputic Jurisprudence, Problem-Solving Courts and the Mental Health Court
Chapter 4 - Global and Australian response to the need for courts to address the needs of mentally ill offenders
Chapter 5 - Recent initiatives in the State of Victoria
Chapter 6 - Qualitative Data: Professional stakeholder views of the efficacy and operation of the Melbourne Magistrates' Court's Assessment and Referral Court.
Chapter 7 - Does the ARC List reduce recidivism?
Chapter 8 - Recommendations and Conclusions