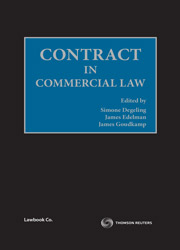 Contract in Commercial Law
Book

$132.40* $331.00 RRP Save: $198.60 (60%)

Date: 14/12/2016

Code: 9780455237688

Lawbook Co., AUSTRALIA

Contract in Commercial Law

Sale Price:

$132.40

Saving: $198.60
Description
Contract in Commercial Law is a collection of essays based on the papers presented at the Contracts in Commercial Law Conference 2015. This work brings together the views of leading commentators in the area – Judges, Academics and Legal Practitioners- in this key area of the law.
This publication is the fourth title in the prestigious "Commercial Law Library" series, accompanying Equity in Commercial Law, Unjust Enrichment in Commercial Law and Torts in Commercial Law. Together these works comprise an unparalleled collection of essays examining deeper controversies and issues of principle in commercial law.
Contract in Commercial Law guides practitioners through a complex, difficult and controversial area of the law, offering a unique resource illuminating the many particular and difficult issues of contract law.
EDITORS
Professor Simone Degeling, UNSW Law; Co Director Private Law and Policy Group, UNSW Law; Editor, Journal of Equity.
The Honourable Justice James Edelman, a Judge of the High Court of Australia
Associate Professor James Goudkamp, Fellow and Tutor in Law, Keble College, Oxford; Associate Professor, Oxford Law Faculty; Academic Fellow, Inner Temple; Senior Honorary Research Fellow, Faculty of Law, University of Western Australia; Honorary Principal Fellow, School of Law, University of Wollongong; barrister, 7 King's Bench Walk
CONTRIBUTORS AND CONTENTS INCLUDE:
Contributor - Chapter
The Honourable Chief Justice Allsop AO - Characterisation of contractual terms and commercial relationships
The Honourable Chief Justice Tom Bathurst AC - General law principles impacting on contractual rights
Dr Andrew Bell SC - Excluding exclusion clauses: judicial and statutory techniques, freedom of contract and public policy
Professor Andrew Burrows QC (Hon) FBA DCL - Illegality as a defence in contract
Professor Mindy Chen-Wishart - Why bother with the consideration doctrine?
Professor Hugh Collins FBA - Is a relational contract a legal concept?
Professor Joshua Getzler - Contract formation and different conceptions of evidence
The Right Honourable the Lord Hope KT PC - Specific implement and specific performance – are they really much the same?
The Honourable Justice Susan Kiefel AC - Consideration in contract – some historical and comparative perspective
Professor Ben McFarlane - Equitable estoppel as a cause of action: neither one thing nor another
Professor David McLauchlan - The many versions of rectification for common mistake
Professor Elisabeth Peden - Evidence of "genuineness"? Available evidence on the question of penalties
Professor David Percy QC - The emergence of good faith as a principle of contract performance
The Honourable Justice Andrew Phang and Goh Yihan - Encounters with history, theory and doctrine – some reflections on discharge by breach of contract
Professor Andrew Robertson - The foundations of implied terms: logic, efficacy and purpose
Professor Robert Stevens - In praise and defence of the traditional rules for the interpretation of contracts
Professor Andrew Tettenborn - Of debts, damages and errant trustees