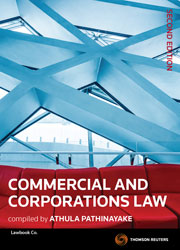 Commercial and Corporations Law 2nd edition
Book

Date: 16/06/2015

Code: 9780455236315

Lawbook Co., AUSTRALIA

Commercial and Corporations Law 2nd edition
Description
Commercial and Corporations Law is a compilation of material from three texts in the Thomson Reuters portfolio. Introducing readers to the Australian Legal System, the book also covers Contract Law, Sale of Goods, Competition and Consumer Law, Tort Law, Agency Law and Corporate Law.
Compiled for students at Deakin University, this text is also available to other institutions.
Commercial and Corporations Law is supported by teaching supplements: Solutions Guide to the end-of-chapter questions, Powerpoint Slides, Mutliple Choice Questions and Short Answer Questions, which is available to lecturers only. Please contact your Account Executive for further details.
Resource Downloads
Instructor Supplements
Please note: these resources are ONLY for the use of lecturers who have prescribed the relevant text. Please email tlrap.academic@thomson.com to request access.