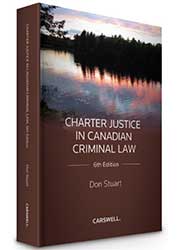 Charter Justice in Canadian Criminal Law 6th Edition
Book

Date: 24/03/2014

Code: 9780779860869

Carswell, Canada

Charter Justice in Canadian Criminal Law 6th Edition
Description
This influential text provides a critical review of how the Charter of Rights and Freedoms is being applied in the criminal courts by the Supreme Court, courts of appeal and trial judges. All important decisions and new arguments are examined and updated.
NEW IN THIS EDITION
Major Supreme Court decisions included in this edition:
PHS Community Services: Ministerial shut down of supervised injection site arbitrary and grossly disproportionate
Khawaja: terrorist provisions read down to avoid overbreadth
Bedford: prostitution laws struck down as overbroad and grossly disproportional
Levkovic: disposing of dead child offence read down to avoid vagueness
DH: presumption of subjective mens rea for crimes
Sinclair, McCrimmon, Willier: limited
s. 10(b) right to re-consult with lawyer, quick duty counsel advice sufficing
Prokofiew: uncertain discretion to comment on accused's silence at trial
Nixon: Crown can repudiate plea bargain in exceptional cases
N.S.: right to cross-examine sexual assault complainant without her niqab
Gomboc: warrantless use of digital recording ammeter not violating s.8
Morelli: stricter standards for I.T.O.'s for search warrant
Cornell: flexible hard entry standards
Chehil, MacKenzie: reasonable suspicion for dog sniffers based on police training and experience
Nolet: random stop for vehicle-related reasons
Nedelcu: compelled prior testimony admissible under s. 13 where not incriminating
Withler and A: Revised approaches to s. 15 equality
Bellusci: judicial stay where prison guard used excessive force
Côté: affirmation of Grant and Harrison principles for exclusion under s. 24(2)
Aucoin, Cole: good faith for s. 24(2) where law was uncertain
Major lower court decisions considered include Nur (Ont. C.A.) (striking down mandatory minimum for firearm offence), Hart (Newf. And Lab C.A.) ("Mr. Big" strategy violating s.7), Koivisto (Ont. C.J.) (s.10(a) violation in sexual assault case leading to s.10(b) and s.7 violations) and Adamo (Man.Q.B.) (three year minimum jail sentence applied to disabled offender violated Charter standards of cruel and unusual punishment), the new section 7 standard of proportionality (Ipeelee), overbreadth and substantive section 15 equality guarantees. This edition provides an up to date analysis of the recent trend to exclude under section 24(2) and of conflicting case law on stays as an abuse of process.