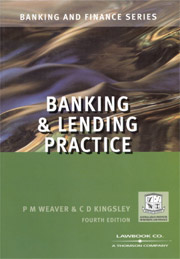 Banking & Lending Practice 4th Edition - PDF
PDF

Date: 07/12/2000

Code: 30119570

Thomson Reuters, AUSTRALIA

Banking & Lending Practice 4th Edition - PDF
Description
Banking and Lending Practice relates the principles of the law to the practice of banking, and outlines the duties and responsibilities of the banker and the customer. It also introduces students to the principles and practices of lending.

The fourth edition of Banking and Lending Practice has been revised to accommodate the many changes to banking and finance law and the way in which financial institutions are supervised and regulated. As well as explaining the changes resulting from the Wallis Report, Banking and Lending Practice, 4th Edition takes a fresh look at bank lending. It explains the process involved in lending in a practical way and discusses issues of practical concern, such as debt recovery.

This edition also includes multiple choice and short answer questions as well as suggested answers to those questions, and is an invaluable aid to understanding banking and finance.
Published in 2000 as part of our Studies in Banking and Finance Series, this title is available again as a high quality PDF.
* By downloading this PDF file you agree to the following: 1. That the file is for your sole use and purpose; 2. You may print this file but only if it is for your personal use; 3. You will not share or make copies of the PDF file (in any format) and will not permit the file to be published or distributed in any other way which is contrary to personal use. You should note that this material is copyright protected and may only be used as noted above. Please contact us if you seek additional permission to reproduce this content or would like any further information.