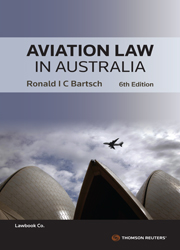 Aviation Law in Australia Sixth Edition
Book

New Release, 14/11/2023

Code: 9780455248233

Lawbook Co., AUSTRALIA

Aviation Law in Australia Sixth Edition
Description
For almost the past three decades this publication has been the first port of call for anyone interested on any aspect of aviation law. Written by one of the world's foremost authorities - lawyer and pilot Ron Bartsch - Aviation Law in Australia is a comprehensive guide to those areas where the law and aviation intersect. The constant challenge facing any such publication is to keep the reader fully informed of the significance and application of changes to aviation law in both the international and domestic aviation environment. Whether the reader is a lawyer, pilot, student, government official or anyone of the diverse range of professionals working in the aviation industry, this text is an essential resource in providing an operational context for the application of aviation law.
Thoroughly revised and updated, this sixth edition includes new material including legislation introduced for a post-COVID 19 operating environment, the legislative challenges for the industry in meeting the 2050 Net Zero Emissions targets, electric aircraft and sustainable aviation fuels, an update of Australia's space initiatives, and an overview of the sector's future trends in the Aviation White Paper. Each area of the law is clearly explained in accessible language and supported with practical case studies to illustrate the application of the law within an operational context.
Professor Ron Bartsch AM is a leading expert in aviation law, academic, author, airline executive and international aviation consultant.
Table of Contents
1. The Development of Aviation Law
2. The Australian Legal System
3. The Regulation of Aviation
4. Contract Law
5. Negligence and Other Torts
6. Employment and Industrial Law
7. Administrative Law
8. Criminal Law
9. Commercial and Competition Law
10. Carriage by Air
11. Aviation Insurance Law
12. Airline Operations
13. Airport Operations
14. Air Traffic Management
15. Aviation Security
16. Safety Management
17. Aviation Investigations
18. Damage by Aircraft
19. Environmental Law
20. Military Aviation Law
21. Innovation in Aviation Policy, Technology and Regulation
22. Space Law
23. Aviation Organisations