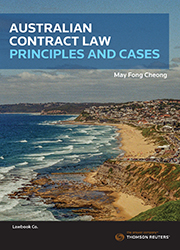 Australian Contract Law: Principles and Cases First Edition
Book

$116.80* $146.00 RRP Save: $29.20 (20%)

Date: 18/02/2020

Code: 9780455243856

Lawbook Co., AUSTRALIA

Australian Contract Law: Principles and Cases First Edition

Sale Price:

$116.80

Saving: $29.20
Description
Adopting a distinctive two-in-one text and casebook style, Australian Contract Law: Principles and Cases concisely sets out general principles of contract law explained and illustrated through key cases. After the statement of principles, a case note provides the salient facts, the issue, and the decision of the court. This is followed by key extracts of relevant parts of the judgment which have been carefully selected to enable students to analyse case law and learn from first principles. The commentaries on case law and statutory materials include recent decisions of the High Court of Australia.
The book contains 24 chapters of topics covered in contract law courses set out in four parts: Formation of Contract, Terms, Avoidance, and Discharge and Damages. Each chapter provides two sets of questions: Essential Questions for revision, and Practice Questions for problem solving hypothetical contractual disputes. References to journal articles facilitate further study and extended reading.
Written primarily with the needs of students in mind, two other features have been included to help students critically engage with the materials:
Sample Sale of Goods Contract
Guide to Answering Problem Based Questions in Assignments and Examinations
The author, May Fong Cheong, is a Senior Lecturer at the Thomas More Law School, Faculty of Law and Business, Australian Catholic University, and Visiting Fellow at the Faculty of Law, University of New South Wales. She has taught contract law for fifteen years in Malaysia, and for the past ten years in Australia. She is also author of the following texts published by Thomson Reuters:
Civil Remedies (2nd ed, 2016)
Contract Law in Malaysia (2010)
Table of Contents
Preliminaries
Ch 1 - Introduction
Part I FORMATION OF CONTRACT
Ch 2 Agreement
Ch 3 Consideration
Ch 4 Intention to Create Legal Relations
Ch 5 Certainty
Ch 6 Formalities
Ch 7 Capacity
Ch 8 Privity
PART II TERMS
Ch 9 Express Terms
Ch 10 Implied Terms
Ch 11 Construction of Terms
Ch 12 Exclusion Clauses
PART III AVOIDANCE
Ch 13 Rescission
Ch 14 Misrepresentation
Ch 15 Misleading or Deceptive Conduct
Ch 16 Duress
Ch 17 Undue Influence
Ch 18 Unconscionable Conduct
Ch 19 Mistake
Ch 20 Illegality
PART IV DISCHARGE AND DAMAGES
Ch 21 Frustration
Ch 22 Performance
Ch 23 Breach of Contract and Termination
Ch 24 Damages
Resource Downloads
Instructor Supplements
Please note: these resources are ONLY for the use of lecturers who have prescribed the relevant text. Please email anzacademicsales@thomsonreuters.com to request access.