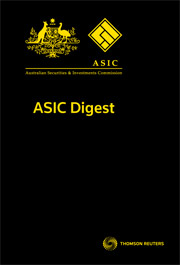 ASIC Digest (Tax and Accounting)
Online

Date: 01/05/2013

Code: 41412834

Thomson Reuters, AUSTRALIA

Enquiry Sent

A member of our support team will be in touch with you within 1 business day.

Sales Enquiry Form

ASIC Digest (Tax and Accounting)

For questions about how to use this product or to get help with your account please visit the Help Centre or Contact Support directly.
Description
Essential compliance information at your fingertips, direct from the Australian Securities and Investments Commission.

ASIC Digest is a logically structured and professionally indexed compilation of all Regulatory Guides, Rules, Class Orders, Information Sheets, Reports and other guidance documents released by ASIC.

Thomson Reuters is the authorised publisher for ASIC and ASIC Digest is the information source used by ASIC offices throughout Australia. It is designed to make it easier for professionals to quickly and efficiently locate the regulatory information they need. With ASIC's growing regulatory responsibilities, it is more important than ever to understand your organisation's compliance obligations.

ASIC Digest will help you to keep up to date with the complex and changing rules impacting on your organisation.

A new feature of ASIC Digest is the linking from the Instruments Tables (which outline instances of relief from the Corporations Act granted to corporations) to the full text PDF version of the relief instrument itself, as published in the ASIC Gazettes.

Save on research time: choose online delivery with links that click through to legislation and case law, plus advanced ASIC Materials search functions.

The ASIC Digest Archive included in the online subscription contains historical material and superseded versions of documents. Subscribers can easily search across only current material, superseded material, or both.
Features
Organised and structured clearly and concisely to provide you with the answers you need as quickly as possible.
The Instruments Tables have a listing of relief provided to corporations under the Corporations Act and link directly to the extended notice of relief as published in the ASIC Gazettes.
Includes a "road map" to help you track down the documents you need based on topic rather than number or type.
Executive Summaries are released with all updates explaining the reason for the new or updated regulatory documents, giving you important background information.
All content is approved by ASIC prior to publication, putting your mind at ease.
Covers the full range of ASIC regulated activities, from financial services regulation to market integrity and carbon pricing regulation.
Contains additional research materials, such as speeches, reports, interviews and articles, so you know you've got everything covered.
Table of Contents
Executive Summaries
Road Map
Subject Index
Directory
Media and Information Releases
Regulatory Guides
Market Integrity Rules
Information Sheets
Reports and Speeches
Interviews and Articles
Consultation Papers
Class Orders
Pro Formas
Instruments tables
Registered Schemes
Class Rule Waivers
The online version is updated when developments occur and features a minimum of twelve updates per year. The print and CD versions feature twelve updates per year.