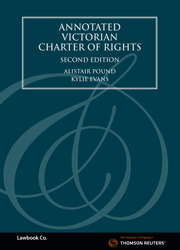 Annotated Victorian Charter of Rights 2e
Book

$64.00* $160.00 RRP Save: $96.00 (60%)

Date: 19/12/2018

Code: 9780455500300

Lawbook Co., AUSTRALIA

Annotated Victorian Charter of Rights 2e

Sale Price:

$64.00

Saving: $96.00
Description
The Charter of Human Rights and Responsibilities Act 2006 (Victoria) is the means by which the civil and political rights of all people in Victoria are brought to bear on the interpretation of Victorian legislation and the policies and practices of the state government and public authorities.
When the well-received first edition of this text was published in 2008, the obligations imposed by the Charter had just commenced. Now, barristers Alistair Pound and Kylie Evans again annotate the Charter, this time drawing on over a decade of operation, found in reported decisions in all courts and tribunals in Victoria, as well as in the High Court and Federal Court. As the authors say in their Preface, these cases "demonstrate that the Charter is, gradually, establishing its place in Victorian law and stimulating the development of a distinctly Victorian human rights jurisprudence".
Annotated Victorian Charter of Rights 2e is a valuable practitioner-focused reference for lawyers needing to identify when and how to apply this significant instrument.