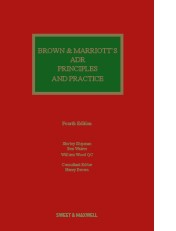 ADR: Principles and Practice 4e HC
Book

Date: 24/08/2018

Code: 9780414051157

Sweet & Maxwell, UNITED KINGDOM

ADR: Principles and Practice 4e HC
Description
Brown and Marriott's ADR Principles and Practice is an essential Alternative Dispute Resolution title. The 4th edition of Brown and Marriott's ADR Principles and Practice will be revised and updated by a new author team comprising William Wood QC, Brick Court Chambers; Ben Waters, Senior Lecturer in Law at Canterbury Christ Church University; and Shirley Shipman, Principal Lecturer in Law at Oxford Brookes University School of Law. They bring a fresh perspective to the 4th edition; while Henry Brown, originator and co-author of the first three editions, is closely involved in this 4th edition as a Consultant Editor.

In addition to a general update and revision, the new edition will address the following in particular:


Developments in statutory and case law as well as practice, which have progressed in various fields, especially as ADR processes have become Technology, ICT and online processes including Online Dispute Resolution (ODR), which have developed, affecting dispute resolution processes.
ADR is becoming increasingly integrated into legal education and training and the work accommodates the need for a comprehensive guide also suitable for students.
The UK's Brexit decision will impact on dispute resolution processes, for example with regard to EU Directives.
Key features of the new edition:
Addresses Alternative Dispute Resolution both from a very practical and pragmatic approach, critical for practitioners
Reviews and analyses ADR and the philosophies, values and motivation underpinning it
Considers the theory and practice of negotiation, on which all consensual ADR processes depend
Covers the theory, principles and practice of ADR processes, whether consensual, adjudicatory or hybrid
Provides detailed coverage of mediation, arguably the primary consensual ADR process, and its various models of practice, both in general terms and in specific fields such as civil-commercial, family and divorce, workplace and employment, neighbourhood/community and Restorative Justice
Explains the different roles that a mediator undertakes and extracts the common attributes and skills from different approaches of mediation
Provides guidance on how lawyers' can best represent their clients in mediation
Discusses practical and ethical issues including evidential privilege and confidentiality, jurisdiction, forum and relevant law
Reviews the use of ADR within the court system and also increasingly by ombudsmen
Addresses adjudicatory ADR processes including arbitration and adjudication
Covers non-binding ADR evaluative processes such as the mini-trial, summary jury trial and early neutral evaluation and case evaluation
Considers hybrid processes between the consensual and adjudicatory models such as Med-arb, Arb-med and neutral fact-finding experts
Examines latest developments in online dispute resolution
Provides extensive references, case law, bibliography and precedents
Table of Contents
Chapter 1: Analysing ADR;
Chapter 2: An Overview of the ADR Landscape;
Chapter 3: ADR Philosophies and Motivation: Common Values and Differences;
Chapter 4: Negotiation;
Chapter 5: ADR and the Courts;
Chapter 6: Arbitration;
Chapter 7: Contractual Adjudication and Other Adjudicatory Processes;
Chapter 8: Mediation – General Principles;
Chapter 9: Mediation – Practice Overview;
Chapter 10: Civil and Commercial Mediation;
Chapter 11: Divorce and Other Family Mediation;
Chapter 12: Neighbourhood, Community Mediation and Restorative Justice;
Chapter 13: Workplace and Employment Dispute Resolution;
Chapter 14: Mediator Attributes, Skills and Roles;
Chapter 15: Confidentiality and Privilege;
Chapter 16: Ethics and Values, Fairness and Power;
Chapter 17: Lawyers' Role Representing Parties in Mediation;
Chapter 18: Ombudsman;
Chapter 19: Non-Binding, Evaluative ADR and Hybrid Processes;
Chapter 20: Online Dispute Resolution;
Chapter 21: Jurisdiction, Forum and Law;
Chapter 22: Future Directions;
Appendix I: Drafting, Documents and Precedents;
Appendix II: Court-Related Documents and Directives