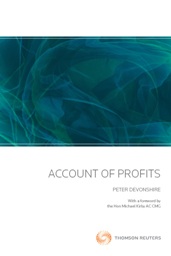 Account of Profits
Book

Date: 31/05/2013

Code: 9780864728029

Brookers, NEW ZEALAND
Description
Account of Profits is a powerful weapon in the litigator's arsenal. Written by Peter Devonshire, a leading scholar on the subject, it is an important but underutilised remedy that can be granted in cases where defendants have profited from their wrongs. An account of profits is the principal remedy for breach of fiduciary duty and breach of obligations of confidence. The remedy is also available in respect of certain common law wrongs and has an important role in cases of intellectual property infringement.
The book draws primarily from English and Australian case law as well as judgments of the New Zealand courts. It also includes the decisions of other Commonwealth jurisdictions and the views of leading academic commentators.
The author provides a clear and comprehensive explanation of the legal principles regarding an account of profits. The remedy is assessed in context, enabling the reader to identify the key issues and apply the relevant concepts.
The Hon Michael Kirby describes Account of Profits as "original, timely, practical and forward-looking" and "a book of great practical worth for lawyers in many countries where the common law and the law of equity still flourish".
This is a leading text on this important and expanding area of law. Account of Profits is a valuable resource for students, practitioners, academics and judges.