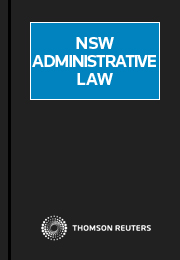 NSW Administrative Law eSubscription
eSub - ProView

Date: 11/02/2014

Code: 41587369

Thomson Reuters, AUSTRALIA

Enquiry Sent

A member of our support team will be in touch with you within 1 business day.

Enquiry Form

NSW Administrative Law eSubscription
Description
"Comprehensive, focused, written with clarity and follows a logical format" - Justice Margaret Beazley AO, President of the New South Wales Court of Appeal.
NSW Administrative Law is the only dedicated subscription publication dealing with the practice and procedure of administrative law in NSW.
Author Mark Robinson SC, of the NSW Bar and former Judicial Member of the Administrative Decisions Tribunal, ensures that he and his contributors promptly respond to developments in the law.
Commentary on the Government Information (Public Access) Act 2009 is provided by officers of the State Crown Solicitor's Office and valuable commentary on Privacy Law by Dr Juliet Lucy. The coverage of privacy in the service addresses the growing need for State agency awareness of stringent State privacy requirements.
The service brings together all the essential information, analysis and the full text of relevant legislation to the review of State executive decisions by merits, judicial and Parliamentary review. It provides detailed commentary on the common law regime of judicial review in the NSW Supreme Court and Court of Appeal, as well as discussing the provisions set out by the Administrative Decisions Review Act 1997. The logical format, numerous time-saving precedents and forms plus the easy-to-read commentary, make your research quicker and easier.
*
Price is for a single annual subscription for one user and includes all updates issued during the year. For pricing for multiple users or for existing subscribers to the service in other formats, please submit an enquiry online or call 1300 304 195.

eBooks and eSubs (an updating subscription eBook) may not be returned once the software key has been supplied to the customer, which supply will be by email after publication of the eSub or eBook. Your rights as a customer to access and use the ProView software and a ProView eSub are subject to acceptance of the terms upon which are at http://thomsonreuters.com.au/terms/content-licence-for-australian-proview-ebooks.asp.