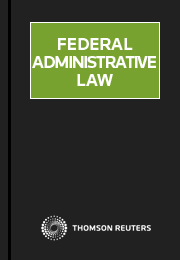 Federal Administrative Law
Looseleaf

Date: 06/09/2012

Code: 30136836

Lawbook Co., AUSTRALIA

Enquiry Sent

A member of our support team will be in touch with you within 1 business day.

Enquiry Form

Federal Administrative Law
Description
Federal Administrative Law is your authoritative guide to practice and procedure in the federal Administrative Appeals Tribunal, with all the relevant legislation together with detailed commentary and annotations covering administrative law and judicial review. The author, Dr Geoffrey Flick is a judge of the Federal Court of Australia and prior to his appointment was a Senior Counsel and practising barrister at Wentworth Chambers in Sydney.
The commentary on the legislation and jurisdiction is complemented by a comprehensive suite of practice tools, including procedural notes, practice directions and overviews. Developments relating to the Administrative Appeals Tribunal, the AAT Jurisdiction List, Freedom of Information, the Federal Court of Australia Act plus the Ombudsman Act, the Archives Act and the Privacy Act are all covered in this service.
Federal Administrative Law is a current, clear and authoritative practice tool, available in paper looseleaf, online through Westlaw AU, and in ProView.

Features
Written by a well known author with extensive experience as a senior barrister and judge in federal jurisdiction
Incorporates practice and procedure material as well as case digest and recommended reading in one service allowing for quick and convenient research
Extensive case references in the annotations and commentary
The looseleaf is structured with a "take to court" volume containing all commentary and legislation relevant to the Administrative Appeals Tribunal
* Subscription price includes 12 months of updating releases. Further updates invoiced separately.