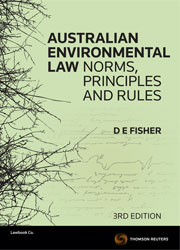 Australian Environmental Law: Norms, Principles & Rules, 3rd Edition
Book+eBook

Date: 25/02/2014

Code: 41549083

Thomson Reuters, AUSTRALIA

Australian Environmental Law: Norms, Principles & Rules, 3rd Edition
Available Formats
Format
Title
Date
Code
Price
Book+eBook
Australian Environmental Law: Norms, Principles & Rules, 3rd Edition
25/02/2014
41549083

$158.54

Add to cart

Australian Environmental Law: Norms, Principles & Rules, 3rd Edition

Book
Australian Environmental Law: Norms, Principles & Rules, 3rd Edition
25/02/2014
9780455232317

$122.00

Add to cart

Australian Environmental Law: Norms, Principles & Rules, 3rd Edition

eBook - ProView
Australian Environmental Law: Norms, Principles & Rules, 3rd Edition
25/02/2014
9780455232850

$122.00

Add to cart

Australian Environmental Law: Norms, Principles & Rules, 3rd Edition
Description
Australian Environmental Law: Norms, Principles and Rules, 3rd Edition provides a detailed examination of the fundamental concepts and principles of the environmental legal system in Australia. This new edition updates relevant State, Territory and Commonwealth legislation and case law and expands on the themes set out in the 2nd edition, namely:
the origins and contexts of environmental governance
the movement toward ecologically sustainable development
the relevance and function of ecologically sustainable development today in the legal system
the range of instrumental rules supporting environmental governance.
The 3rd edition in particular expands upon the range of instrumental rules by analysing through the case law the emerging sets of rules of competence and limitation on the one hand and the emerging sets of purposive, deliberative, methodological, strategic, liability and market rules on the other hand. This thematic and principled approach adopted in Australian Environmental Law: Norms, Principles and Rules, 3rd Edition presents the reader with coverage of the important issues surrounding this area of the law in a clear and concise way.
*
eBooks and packages including an eBook may not be returned once the software key has been supplied. Your rights as a customer to access and use the ProView™ software and a ProView eBook are subject to acceptance of the ProView content licence agreement.
NB
An email with a registration key and instructions for accessing your eBook will be sent after checkout. For existing ProView users the eBook will appear in your library after checkout.

Forthcoming/pre-order eBooks will be available after the publication date.

The ProView app is not currently available on Kindle. See the latest system requirements