Launched on ProView:
Australia's Legal Journal of Record
"The Australian Law Journal has remained the flagship and journal of record of the Australian legal profession."
— The Hon Michael Kirby AC CMG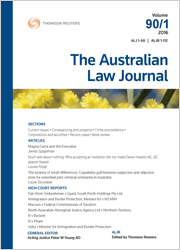 ---
Thomson Reuters is pleased to announce the launch of the Australian Law Journal on the award-winning ProView eReader platform.
Along with Thomson Reuters' comprehensive collection of eSubs and eBooks, you can now access the latest Australian Law Journal parts with an eJournal subscription. Subscribers will have the flexibility to read the latest articles in the office, in court, in meetings and on-the-go.
The eJournal gives you all the great benefits of the journal service with the enhanced functionality of the ProView eReader. ProView's fast and flexible platform provides book-like readability and a customised user experience, so you can add notes, highlight sections and add bookmarks to find the information you need faster.
Westlaw AU users can also seamlessly click through links in the journal article to be taken directly to the case, provision, paragraph or external website (subject to subscription and online connection).