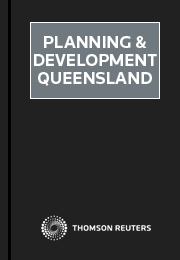 Planning & Development Queensland
Looseleaf

Date: 18/09/2012

Code: 30146326

Lawbook Co., AUSTRALIA

Enquiry Sent

A member of our support team will be in touch with you within 1 business day.

Enquiry Form

Planning & Development Queensland
Description
Explaining the intricacies of Queensland planning and development law is the main thrust of this service which is organised according to the relevant provisions of the Sustainable Planning Act 2009 . This Act was the result of extensive consultation and implemented a number of the reform actions in "Planning for a Prosperous Queensland - A reform agenda for planning and development in the Smart State". Although this legislation replaced the Integrated Planning Act 1997, the superseded legislation has been retained for reference purposes.
The New Developments section alerts the subscriber to proposed changes in legislation, tracks the progress of Bills, summarises key reforms and Recommended Reading provides abstracts of relevant journal articles and lists seminar papers/ articles from a range of Queensland publications.
The fully headnoted Planning & Development Queensland Reports (PDQR) complements the commentary volumes. The authors' selections are made from the Supreme Court of Queensland, the Court of Appeal Queensland, Queensland Planning & Environment Court and District Court and where appropriate the High Court of Australia. The headnotes are specifically written for this service.
* . Price is for an annual subscription and includes all updates issued during this period.