What are law reports?
Law reports are the definitive record of judge-made law in Australia. Of the thousands of judgments that are delivered each year, a percentage of these are deemed significant and selected for reporting.
Reported decisions, particularly those authorised by the courts, are generally the preferred authorities in legal proceedings.
The editors of law reports apply a set of criteria when reviewing judgments for selection. As originally proposed by UK judge Nathaniel Lindley, the criteria are:
All cases which introduce, or appear to introduce, a new principle or a new rule.
All cases which materially modify an existing principle or rule.
All cases which settle, or materially tend to settle, a question upon which the law is doubtful.
All cases which for any reason are peculiarly instructive.
But selection is only one part of the reporting process.
During the production of each law report, Thomson Reuters, its external editors, reporters and internal production editors, add the following value to each judgment:
Creation of authored-catchwords and a headnote for each case
Verification of legislation and case references in the judgment
Insertion of online links throughout to other cases and FirstPoint
Creation of an index and tables
Proofreading
Styling of the judgment text to ensure consistency and readability
Creation of a facsimile PDF version of the printed report for online subscribers.
---
Insights from Victor Kline
Barrister & Editor of Federal Court Reports and Federal Law Reports
---
Why choose Thomson Reuters' law reports?
---
An extensive collection of authorised, specialist, backset, odd volumes and online law reports
Thomson Reuters publishes the largest collection of authorised and specialist law reports, including the prestigious Commonwealth Law Reports and Federal Court Reports.
Authorised law reports
As the definitive version of key decisions, authorised law reports are an essential part of any practitioners' collection. Headnotes, authored by experienced practitioners and approved by the courts, allow practitioners to quickly assess the relevance of a case.
Specialist law reports
Specialist law reports cover general federal law, administrative law, criminal law, dust diseases and compensation, industrial law, local government and environmental law. Careful selection policies ensure only significant decisions are included, saving valuable research time.
Backsets and odd volumes
Establishing or completing your law reports library is simple. Individual bound volumes and full backsets are available for all series.
Online law reports
Thomson Reuters' online law reports collection includes a complete archive of most series with PDF versions of the original printed report. Law reports can be included in your online package and represent great value.
Browse the full collection of law reports
Have the correct version of a case to present in court
Many courts prefer the authorised, reported version of a case because they have checked their judgments and the headnotes to ensure accuracy prior to a case being reported. Access the full text case of an authorised report online – both HTML and the print PDF – with just one click.
Law reports online link to other key research, commentary and legislation products*
When researching online, our law reports link to other key products such as FirstPoint, which provides an online case citator, complete with classifications to The Australian Digest scheme, litigation history and thousands of case digests.
*Subject to your Westlaw AU subscription

The quality of our authors and in-house editors

The Thomson Reuters editorial production team has decades of experience in producing Australia's finest law reports. They work closely on a daily basis with the general editors of each series and the judiciary to ensure fast turnaround of accurate judgments and the significant value-adds of a headnote, catchwords and linking.
The benefits of using law reports on Westlaw AU
Westlaw AU is Australia's leading online legal research platform. Whether researching case law, journals, legislation, commentary, precedents, a legal encyclopaedia or news, you can count on the superior content delivered through Westlaw AU. The platform features:
Expert analysis and opinion from trusted authors
Current and accurate content updated daily
Over 300 online research products to choose from
Users also benefit from:
Better search options, easier navigation and faster results, including filters
An intuitive, easy-to-use interface
Flexible plans, as well as pay-per-view options
Ongoing enhancements based on customer feedback
Online Insider – an online community that offers support and training to our online users
Local customer support and training
Easy access to all available content on a particular case or legislative provision
Victorian Reports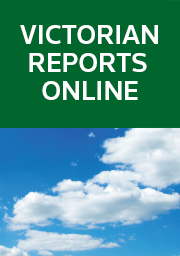 Now available on Westlaw AU
The authorised law reports of the Supreme Court of Victoria
Q&A and Insights
Victor Kline, Barrister & Editor of Federal Court Reports and Federal Law Reports
---
Ready to trial law reports, free for 14 days on Westlaw AU? See collection.