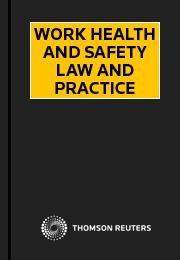 Work Health & Safety Law & Practice
Online

Date: 01/11/2012

Code: 30168760

Thomson Reuters, AUSTRALIA

Enquiry Sent

A member of our support team will be in touch with you within 1 business day.

Sales Enquiry Form

Work Health & Safety Law & Practice

For questions about how to use this product or to get help with your account please visit the Help Centre or Contact Support directly.
Description
Work Health and Safety Law and Practice is a resource for legal, OHS, HR, and Risk professionals working with the partially-harmonised OHS regime. Covering all Australian jurisdictions, the service helps practitioners navigate the great volume of legislation, case law, codes and guidelines governing health and safety in the workplace.
Practical annotations to the Commonwealth Act (with 'Jurisdictional Notes' pointing to differences in other jurisdictions) allow you to readily grasp the key features of each jurisdiction's implementation of the regime. Additional commentary addresses practical compliance challenges in key areas such as: directors due diligence, contractor management, review of risk control measures and more.
Updated 2 times p.a., Work Health and Safety Law and Practice includes:
Comparative table between old and new OHS laws
Annotated Cth Act, plus Cth Regulation
All state and territory law in force
Compliance Toolkit commentary on key issues such as Officer Compliance, Due Diligence Actions, Contractor Management and Critical Incident Response
Model Codes of Practice
Table of Contents
Table of Cases
Table of Statutes
Index
Comparative Table (old to new laws)
Legislation:
Annotated Commonwealth Work Health and Safety Act 2011 (No 137)
Work Health and Safety Regulations 2011 (Cth)
Work Health and Safety Act 2011 (NSW)
Work Health and Safety Regulation 2011 (NSW)
Work Health and Safety Act 2011 (Qld)
Work Health and Safety Regulation 2011 (Qld)
Work Health and Safety Act 2012 (SA)
Work Health and Safety Regulations 2012 (SA)
Work Health and Safety Act 2012 (Tas)
Work Health and Safety (Transitional and Consequential Provisions) Act 2012 (Tas) — Extract
Work Health and Safety Regulations 2012 (Tas)
Work Health and Safety (Transitional) Regulations 2012 (Tas)
Mines Work Health and Safety (Supplementary Requirements) Regulations 2012(Tas)
Work Health and Safety Act 2011 (ACT)
Work Health and Safety Regulation 2011 (ACT)
Work Health and Safety (National Uniform Legislation) Act 2011 (NT)
Work Health and Safety (National Uniform Legislation) Regulations 2011 (NT)
Occupational Health and Safety Act 2004 (Vic)
Occupational Health and Safety Regulations 2007 (Vic)
Occupational Safety and Health Act 1984 (WA)
Occupational Safety and Health Regulations 1996 (WA)
Compliance Toolkit:
Officer compliance
Due dilligence
Contractor management
Critical incident notification and warning
Model Codes of Practice
(All Model Codes of Practice approved by Safe Work Australia and the Ministerial Council)