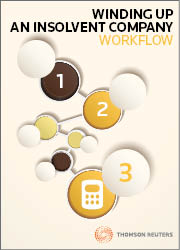 Winding Up an Insolvent Company Workflow
Online

Date: 15/04/2014

Code: 41651139

Thomson Reuters, AUSTRALIA

Enquiry Sent

A member of our support team will be in touch with you within 1 business day.

Sales Enquiry Form

Winding Up an Insolvent Company Workflow

For questions about how to use this product or to get help with your account please visit the Help Centre or Contact Support directly.
Description
Winding Up an Insolvent Company Workflow is a practice solution designed to help you more efficiently achieve outcomes for your clients. This workflow outlines the procedural steps for a winding up application in the Supreme Court of New South Wales relying on non-compliance with statutory demand.
Winding Up an Insolvent Company Workflow consists of a schematic diagram which maps out the correct procedural steps, as well as Tips and Alerts to ensure steps are followed within relevant time-frames.
Other features include:
all necessary templates and forms that are required to complete the process in downloadable Word format so that documents can be completed as they arise during the course of the workflow
links to text of specific legislative provisions and brief case references, as relevant
Depending on how familiar you are with the area of law, you may wish to use the workflow schematic every time or simply access the tools directly.
*
Pricing is for single user