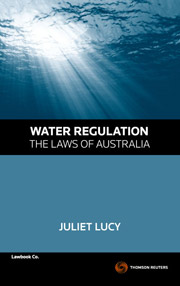 Water Regulation - The Laws of Australia
Book

Date: 15/10/2008

Code: 9780455226248

Lawbook Co., AUSTRALIA

Water Regulation - The Laws of Australia
Description
Water Regulation – The Laws of Australia is the ultimate companion to guide you through the highly dynamic area of water law. In a society where there is increasing concern about climate change, this text is an essential reference for practitioners, students and individuals alike.

Author Dr Juliet R Lucy, provides a practical approach to this topical subject with commentary covering the following areas:

• Contextual, constitutional and institutional framework
• Access to water resources
• Management of water resources
• Individual and community rights to water
• Liability arising out of water resource management

Water Regulation – The Laws of Australia is the only current and comprehensive study of water law across all Australian jurisdictions. Legislation and policy relating to water is currently undergoing significant modification. The thorough treatment provided in this user-friendly text brings you up to date with critical changes already in place and outlines impending changes.

The multi-jurisdictional discussion includes new policies, Acts and Regulations such as the Intergovernmental Agreement on Murray-Darling Basin Reform (3 July 2008), Water Act 2007 (Cth), Water Regulations 2008 (Cth), Water Supply (Safety and Reliability) Act 2008 (Qld) and Water and Sewerage Industry Act 2008 (Tas).

This material is also reproduced as part of Title 14 "Environment and Natural Resources" of The Laws of Australia legal encyclopaedia.