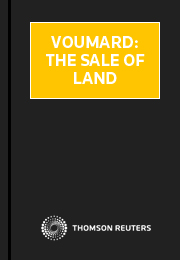 Voumard: The Sale of Land
Online

Date: 26/06/2007

Code: 41167524

Lawbook Co., AUSTRALIA

Enquiry Sent

A member of our support team will be in touch with you within 1 business day.

Sales Enquiry Form

Voumard: The Sale of Land

For questions about how to use this product or to get help with your account please visit the Help Centre or Contact Support directly.
Description
Voumard: The Sale of Land is a complete guide to understanding the principles of the sale and conveyance of land in all States of Australia.
Taking as its starting point, the assumption that the unique aspects of contracts for sale of land are beyond the scope of general treatises on contract law, this service provides the detailed analysis necessary to fully understand the rights and duties of both buyer and seller.
Covering all aspects of the process from who may contract, through investigation of title, to completion or remedies for breach The Sale of Land is, and has been for over 50 years, the ultimate guide to land sale.
In Scottsdale Homes Pty Ltd v Gemkip Pty Ltd & Ors [2008] QSC 326, Justice Chesterman of the Supreme Court of Queensland,quoted (at para 153 of his judgment) from the 6th edition of Voumard: Sale of Land authored by Nimal Wikramanayake SC.
This 6th edition is published in looseleaf and online format and is based on the renowned book which originally published in 1939. In 2007, Voumard (by then a looseleaf service) was placed in the top 20 legal books written in Australia, in a survey conducted by Mr Justice Young, Chief Judge in Equity of the Supreme Court of New South Wales and General Editor of The Australian Law Journal.
The work now also contains relevant full text legislation to provide the user with a complete reference work. Cross-reference annotations, noting the location and main point of discussion within the commentary volume are added progressively.
The service is updated frequently to keep abreast of major cases and legislative change.