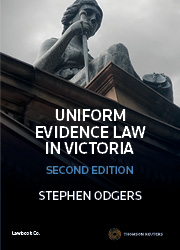 Uniform Evidence Law in Victoria 2e eBook+Book
Book+eBook

Date: 25/06/2013

Code: 41481849

Thomson Reuters, AUSTRALIA

Uniform Evidence Law in Victoria 2e eBook+Book
Description
Essential guidance to evidence law in Victoria.
"This specifically Victorian edition ... will find its way, in much thumbed copies, on to benches, bar tables and desks. It will be the essential aid to an understanding of the UEA in Victoria." - Tim Smith, former Justice of the Supreme court of Victoria, from the Foreword to the 1st Edition.
Responding to Victorian practitioners' requests for a continued focus on the evidence law in their state, Stephen Odgers provides fresh analysis in Uniform Evidence Law in Victoria 2nd Edition.
His authoritative commentary is complemented by customised and updated appendices prepared specifically for the Victorian reader.
In the three years since the first edition, there have been many important appellate judgments. The following represent just some of the key matters considered in this new Victorian edition:
business records and lay opinion evidence: Lithgow City Council v Jackson [2011] HCA 36;
the meaning of "credibility evidence" and of "probative value": Dupas v The Queen [2012] VSCA 328 (rejecting NSW authority);
privilege against self incrimination: LGM & CAM [2011] FamCAFC 195;
the likely effectiveness of jury directions to overcome unfair prejudice: Patel v The Queen [2012] HCA 29
excluding improperly or illegally obtained evidence: DPP v Marijancevic; DPP v Preece [2011] VSCA 355;
the scope of "unfair prejudice": Aytugrul v The Queen [2012] HCA 15;
extending "Jones v Dunkel" inferences: Kuhl v Zurich Financial Services Australia Ltd [2011] HCA 11; Australian Securities and Investments Commission v Hellicar [2012] HCA 17
the continuing importance of common law obligations to give warnings to juries: Greensill v The Queen [2012] VSCA 306;
expert evidence: Dasreef Pty Ltd v Hawchar [2011] HCA 21; and
warnings about children's evidence: C M G v The Queen [2011] VSCA 416; RGM v R [2012] NSWCCA 89.
As well, important single judge decisions considered include:
protection of journalists' sources under s 126H of the Commonwealth Act: Ashby v Commonwealth of Australia (No 2) [2012] FCA 766
proof of voluminous or complex documents under s 50: Idylic Solutions Pty Ltd [2012] NSWSC 568
attempts to revive memory in court: DPP v Curran (Ruling No 2) [2011] VSC 280
This expert and accessible guide provides courts, practitioners and students with definitive treatment of the evidence law regime in Victoria.
Table of Contents
Introduction
Format of the Commentary
Table of Statutes
Table of Cases
EVIDENCE ACT
Table of Provisions
Chapter 1 - Preliminary
Chapter 2 - Adducing the Evidence
Chapter 3 - Admissibility of Evidence
Chapter 4 - Proof
Chapter 5 - Miscellaneous
Schedules
Dictionary
APPENDICES
Appendix A – Evidence Regulations 1995 (Cth)
Appendix B - Evidence Regulations 2009 (Vic)
Appendix C - Ready Reckoner (Vic)
Appendix D - Evidence (Miscellaneous provisions) Act 1958 (Vic)
Appendix E – Criminal Procedure Act 2009 (Vic) (extracts)
Appendix F – Crimes Act 1958 (Vic) (extracts)
Appendix G – Table of Notices (Vic)
Appendix H - Victorian Charter of Rights and Responsibilities (extracts)
*
eBooks and packages including an eBook may not be returned once the software key has been supplied. Your rights as a customer to access and use the ProView™ software and a ProView eBook are subject to acceptance of the ProView content licence agreement.
NB
An email with a registration key and instructions for accessing your eBook will be sent after checkout. For existing ProView users the eBook will appear in your library after checkout.

Forthcoming/pre-order eBooks will be available after the publication date.

The ProView app is not currently available on IPhone or Kindle. See the latest system requirements