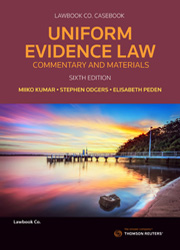 Uniform Evidence Law: Commentary and Materials Sixth Edition - Book
Book

Date: 24/08/2018

Code: 9780455241111

Lawbook Co., AUSTRALIA

Uniform Evidence Law: Commentary and Materials Sixth Edition - Book
Description
Uniform Evidence Law: Commentary and Materials 6th edition has been updated throughout to provide essential case extracts and thoughtful concise commentary covering the uniform evidence legislation in the UEL jurisdictions of the Commonwealth, new South Wales, Victoria and Tasmania.
This latest edition includes discussion of the following significant developments and new case law:
Important cases on adducing evidence from witnesses (R v GW (2016) 258 CLR 108 and Tootle v R [2017] NSWCCA 103);
Recent decision on adducing documents and business records (Capital Securities XV Pty Ltd (formerly known as Prime Capital Securities Pty Ltd) v Calleja [2018] NSWCA 26);
Significant hearsay decisions (Sio v The Queen (2016) 259 CLR 47 and Pate v the Queen [2015] VSCA 110);
New decision on expert evidence (Langford v Tasmania [2018] TASCCA 1);
Significant decisions on the admissibility of tendency and coincidence evidence (Hughes v The Queen [2017] HCA 20; 344 ALR 187 and R v GM [2016] NSWCCA 78);
Privilege (Construction, Forestry, Mining and Energy Union v Australian Building and Construction Commissioner [2018] FCAFC 4);
Important decisions on discretionary exclusion (IMM v The Queen (2016) 257 CLR 300 and Dickman v The Queen [2017] HCA 24); and
New decision on warning in respect of delay (Robbins (a pseudonym) v The Queen [2017] VSCA 288).
Table of Contents
Part 1 - Introduction
Part 2
Chapter 2 - Witnessses
Chapter 3 - Documents
Chapter 4 - Real Evidence
Part 3 - Admissibility of Evidence
Chapter 5 - Relevance
Chapter 6 - Discretions to Exclude or Limit Use of Evidence
Chapter 7 - Hearsay
Chapter 8 - Opinion
Chapter 9 - Admissions
Chapter 10 - Tendency and Coincidence
Chapter 11 - Credibility
Chapter 12 - Character
Chapter 13 - Identification Evidence
Chapter 14 - Privilege
Part 4 - Proof
Chapter 15 - Burden and Standard of Proof
Chapter 16 - Judicial Notice
Chapter 17 - Facilitation of Proof
Chapter 18 - Corroboration and Warnings
Chapter 19 - Prima facie Case
Part 5 - Case Files and Answers to Questions
Chapter 20 - Case Files
Chapter 21 - Answers to Questions
Appendix
Evidence Act
Relationship Between the Evidence Act 2001 (Tas) and the Evidence Act 1995 (Cth)
Criminal Procedure act 1986 (NSW) - Extracts
*
eBooks and packages including an eBook may not be returned once the software key has been supplied. Your rights as a customer to access and use the ProView™ software and a ProView eBook are subject to acceptance of the ProView content licence agreement.
NB
An email with a registration key and instructions for accessing your eBook will be sent after checkout. For existing ProView users the eBook will appear in your library after checkout.

Forthcoming/pre-order eBooks will be available after the publication date.

The ProView app is not currently available on Kindle. See the latest system requirements