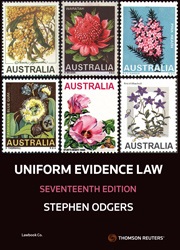 Uniform Evidence Law 17e - eBook
eBook - ProView

New Release, 29/06/2022

Code: 9780455502717

Lawbook Co., AUSTRALIA

Uniform Evidence Law 17e - eBook
Description
Uniform Evidence Law 17th Edition provides Australia's leading guidance on the uniform evidence law for barristers, courts, litigators and students alike. With up to a quarter of the legislative provisions reviewed in the courts annually, it is essential to have a current copy at hand.
UPDATED ANNUALLY
Uniform Evidence Law is an annual publication, ensuring customers have the most updated text on the market.
This currency combines with the unchallenged authority of Stephen Odgers' commentary to provide the premium product on uniform evidence. The affordable price ensures access to this best-value treatment.
NEW TO THE 17th EDITION
Case law and legislative judgments are thoroughly considered. High Court judgments referred to include:
Application of the privilege in respect of self-incrimination under both s 128 and s 128A of the Act, in Deputy Commissioner of Taxation v Shi (2021) 95 ALJR 634; and
Application of the rule of practice in Browne v Dunn, in Hofer v The Queen (2021) 95 ALJR 937.
Appellate and lower court judgments have been distilled and incorporated into the work. Key matters addressed include:
Documents produced by processes, machines and other business devices, in Peter James Harris & Jane Maree Harris v WaterNSW [2021] NSWCCA 184;
Proof of voluminous or complex documents, in Loureiro v Mac Aus Unit Pty Ltd [2022] NSWSC 139;
Where relevance depends on course taken by opposing parties, in KE v R [2021] NSWCCA 119;
Which document copies serve as the business record for document maker and recipient, respectively, in Di Liristi v Matautia Developments Pty Ltd [2021] NSWCA 328;
Whether admitting an opinion is "necessary" to obtain adequate account of a perception of matter or event - comparing SBT v Colvin [2021] ACTCA 40 and ACCC v BlueScope Steel Limited (No 3) [2021] FCA 1147;
Mere reliance on contended similarities between events, or circumstances in which they occurred, will not provide "coincidence evidence", in Parker v The Queen [2020] NSWCCA 206;
A "journalist" for the purposes of the privilege in s 126K of the Act, in Kumova v Davison [2021] FCA 753;
Claiming privilege based on public interest immunity in s 130 of the Act, in Madafferi v The Queen [2021] VSCA 1, and Zirilli v The Queen [2021] VSCA 2;
Appropriate standard of appellate review, in respect of s 135 of the Act, in Rogerson v R; McNamara v R [2021] NSWCCA 160; and
Rules of evidence do not apply to determination of legislative and constitutional facts, in Lendlease Building Contractors Pty Limited v Australian Building and Construction Commissioner (No 2) [2022] FCA 192.
In terms of legislative developments, the 17th Edition considers the further implementation in the Northern Territory of the NSW amendments regarding "tendency" and "coincidence" evidence.
With its popular and highly accessible annotated legislation format, and comprehensive commentary, Uniform Evidence Law 17th Edition is the authoritative voice on evidence law in NSW, the Commonwealth, Victoria, Tasmania, the ACT and Northern Territory.
*
eBooks and packages including an eBook may not be returned once the software key has been supplied. Your rights as a customer to access and use the ProViewâ"¢ software and a ProView eBook are subject to acceptance of the ProView content licence agreement.
NB
An email with a registration key and instructions for accessing your eBook will be sent after checkout. For existing ProView users the eBook will appear in your library after checkout.

Forthcoming/pre-order eBooks will be available after the publication date.

The ProView app is not currently available on Kindle. See the latest system requirements