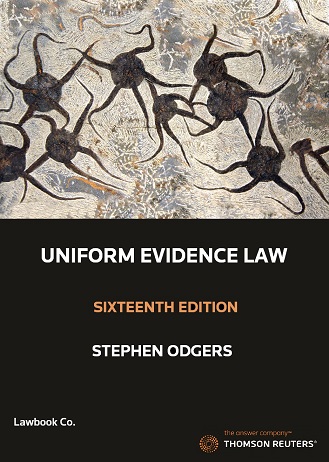 Uniform Evidence Law 16th Edition - Book & eBook
Book+eBook

Date: 26/06/2021

Code: 42921676

Lawbook Co., AUSTRALIA

Uniform Evidence Law 16th Edition - Book & eBook
Description
Uniform Evidence Law 16th Edition provides Australia's leading guidance on the uniform evidence law for barristers, courts, litigators and students alike. With up to a quarter of the legislative provisions reviewed in the courts annually, it is essential to have a current copy at hand.
UPDATED ANNUALLY
Uniform Evidence Law is an annual publication, ensuring customers have the most updated text on the market.
This currency combines with the unchallenged authority of Stephen Odgers' commentary to provide the premium product on uniform evidence. The affordable price ensures access to this best-value treatment.
NEW TO THE 16th EDITION - Case law and legislative developments are thoroughly considered. High Court judgments referred to include:
Consideration of the operation of s 138 with respect to unlawfully obtained evidence, in Kadir v The Queen (2020) 94 ALJR 168; [2020] HCA 1;
Formulation of a suitable direction to the jury regarding the application of s 141, with respect to evidence from an accused, in De Silva v The Queen (2019) 94 ALJR 100; [2019] HCA 48.
Appellate and lower court judgements have been distilled and incorporated into the work. Key decisions include:
Application of the hearsay exception in s 71 with respect to "posts" from a Facebook account, in Stevenson v The Queen [2020] VSCA 27;
Application of s 79 to hold that a firearms expert was not permitted to express an opinion that a shotgun cartridge found at the scene of a crime was fired from a particular exhibit shotgun, in Sidaros v The Queen [2020] ACTCA 11;
Conflicting views on a trial judge's gatekeeping role under s 137 regarding the reliability of expert opinion, in Tuite v The Queen [2020] VSCA 318 and Xie v The Queen [2021] NSWCCA 1;
Application of the "fundamental common law accusatorial principle" when assessing under s 90 whether it would be "unfair" to admit evidence of an admission, in Sidaros v The Queen [2020] ACTCA 11;
Discussion of the application of s 120 (client legal privilege in respect of "unrepresented parties") in Meadis v Meadis [2020] FamCAFC 301;
Detailed consideration of s 126K (Journalists privilege) in Roberts-Smith v Fairfax Media Publications Pty Ltd (No 3) [2020] FCA 2 and Australian Broadcasting Corporation v Kane (No 2) [2020] FCA 133; and
Discussion of s 128A (Privilege in respect of self-incrimination - exception for certain orders) in Deputy Commissioner of Taxation v Shi [2020] FCAFC 100.
In terms of legislative development, the 16th Edition considers the implementation, across other jurisdictions, of the New South Wales amendments regarding "tendency" and "coincidence" evidence.
With its popular and highly accessible annotated legislation format, and comprehensive commentary, Uniform Evidence Law 16th Edition is the authoritative voice on evidence law in NSW, the Commonwealth, Victoria, Tasmania, the ACT and Northern Territory.
*
eBooks and packages including an eBook may not be returned once the software key has been supplied. Your rights as a customer to access and use the ProView™ software and a ProView eBook are subject to acceptance of the ProView content licence agreement.
NB
An email with a registration key and instructions for accessing your eBook will be sent after checkout. For existing ProView users the eBook will appear in your library after checkout.

Forthcoming/pre-order eBooks will be available after the publication date.

The ProView app is not currently available on Kindle. See the latest system requirements