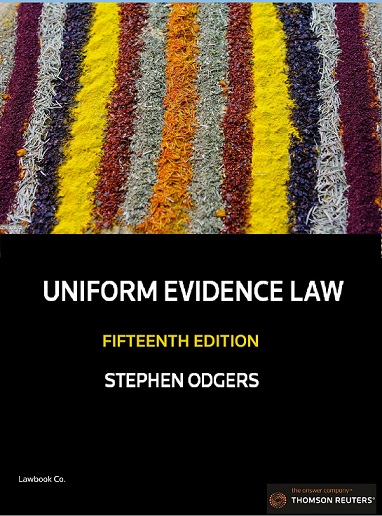 Uniform Evidence Law 15th Edition - eBook
eBook - ProView

Date: 11/06/2020

Code: 9780455501826

Lawbook Co., AUSTRALIA

Uniform Evidence Law 15th Edition - eBook
Description
Uniform Evidence Law 15th Edition provides Australia's leading guidance on the uniform evidence law for barristers, courts, litigators and students alike. With up to a quarter of the legislative provisions reviewed in the courts annually, it is essential to have a current copy at hand.
UPDATED ANNUALLY
Uniform Evidence Law is now released as an annual publication, ensuring customers have the most updated text on the market.
This currency combines with the unchallenged authority of Stephen Odgers' commentary to provide the premium product on uniform evidence. The affordable price ensures access to this best-value treatment for practitioners, judges, police and students alike.
NEW TO THE 15th EDITION - Case law and legislative developments are thoroughly considered. High Court judgments referred to include:
Kadir v The Queen; Grech v The Queen [2020] HCA 1, dealing with exclusion of improperly or illegally obtained evidence (s 138); and
De Silva v The Queen [2019] HCA 48, where the High Court formulated a suitable direction to the jury regarding the proper approach to defence evidence in the context of the burden and standard of proof (s 141).
Appellate and lower court judgements have been distilled and incorporated into the work. Key decisions include:
Stevenson (a Pseudonym) v The Queen [2020] VSCA 27, regarding the hearsay rule exception for electronic communications (s 71) and proof of evidence produced by processes, machines and other devices (for example, social media);
Sidaros v The Queen [2020] ACTCA 11, regarding the requirements for expert opinion evidence (s 79), the discretion to exclude an admission on the basis of "unfairness" (s 90) and the discretion to exclude evidence obtained in "breach of the common law accusatorial principle" (s 138);
Hogg v R [2019] NSWCCA 323, in relation to evidence of silence in criminal proceedings in NSW, where the reason for not answering police questions was because of legal advice not to do so (s 89A); and
DPP (Cth) v Kinghorn; Kinghorn v DPP (Cth) [2020] NSWCCA 48, dealing with legal advice privilege (s 118), waiver of privilege (s 122) and loss of privilege as a result of misconduct (s 125).
In terms of legislative development, the 15th Edition considers planned amendments to Part 3.6 "Tendency and coincidence", agreed by the Council of Attorneys-General.
With its popular and highly accessible annotated legislation format, and comprehensive commentary, Uniform Evidence Law 15th Edition is the authoritative voice on evidence law in NSW, the Commonwealth, Victoria, Tasmania, the ACT and Northern Territory.
*
eBooks and packages including an eBook may not be returned once the software key has been supplied. Your rights as a customer to access and use the ProView™ software and a ProView eBook are subject to acceptance of the ProView content licence agreement.
NB
An email with a registration key and instructions for accessing your eBook will be sent after checkout. For existing ProView users the eBook will appear in your library after checkout.

Forthcoming/pre-order eBooks will be available after the publication date.

The ProView app is not currently available on Kindle. See the latest system requirements