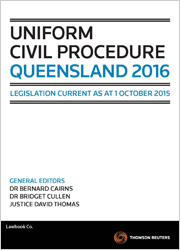 Uniform Civil Procedure Queensland 1e Book + Ebook
Book+eBook

$104.58* $261.45* RRP Save: $156.87 (60%)

Date: 30/11/2015

Code: 41857714

Thomson Reuters, AUSTRALIA

Uniform Civil Procedure Queensland 1e Book + Ebook

Sale Price:

$104.58

Saving: $156.87
Description
Uniform Civil Procedure Queensland is the one essential book you need to take to Court, featuring the full Uniform Civil Procedure Rules 1999 (Qld) along with detailed annotations from our practitioner authors.
It offers:
Convenience and portability of a single volume.
Currency to 1 October 2015.
Annotations informed by practice – analysis is by practitioners senior in their profession
Ease of navigation – extensive table of cases, detailed page headings, shading on annotations, and index make it simple to find the content you need.
This volume takes selected legislation and commentary from Thomson Reuters' subscription work, Queensland Civil Practice which is under the guidance of the Honourable Justice David Thomas, Dr Bernard Cairns and Dr Bridget Cullen.
The annotations have been updated to include, amongst others the following cases:
Consideration of appeals where there are issues of dispute in facts : see Chan v First Strategic Development Corporations Ltd (in liq) [2015] QCA 28
Ferrari Estate Holdings Pty Ltd v Sovereign Resort Developments Pty Ltd [2015] QSC 126 on rule 445 where the response was defective
Discussion of ADR processes in the Civil Proceedings Act 2011 : Look Design and Development Pty Ltd v Sweeney [2015] QDC 36
Decision in Marakan v Queensland Police Service [2015] QCA 22 covering issue of vexatious litigants and departure from orders for costs on an indemnity basis.
Table of Contents
Uniform Civil Procedure Rules 1999 (Qld)
Chapter 1 – Preliminary
Chapter 2 – Starting proceedings
Chapter 3 – Parties and proceedings
Chapter 4 – Service
Chapter 5 – Notice of intention to defend
Chapter 6 – Pleadings
Chapter 7 – Disclosure
Chapter 8 - Preservation of Rights and Property
Chapter 9 - Ending Proceedings
Chapter 10 – Court supervision
Chapter 11 – Evidence
Chapter 12 – Jurisdiction of registrar
Chapter 13 – Trials and other hearings
Chapter 14 – Particular proceedings
Chapter 15 – Probate and administration, and trust estates
Chapter 16 to Chapter 17 – Orders & Costs
Chapter 18 – Appellate Proceedings
Chapter 19 to Chapter 20 –- Enforcement
Chapter 21 –- Interpleader Orders
Chapter 22 – Registry & Solicitors
Chapter 23 – Corporations & ASIC Law
Dictionary Sch 4
*
eBooks and packages including an eBook may not be returned once the software key has been supplied. Your rights as a customer to access and use the ProView™ software and a ProView eBook are subject to acceptance of the ProView content licence agreement.
NB
An email with a registration key and instructions for accessing your eBook will be sent after checkout. For existing ProView users the eBook will appear in your library after checkout.

Forthcoming/pre-order eBooks will be available after the publication date.

The ProView app is not currently available on Kindle. See the latest system requirements