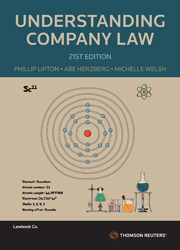 Understanding Company Law 21st Edition
Book

New Release, 21/12/2021

Code: 9780455246277

Lawbook Co., AUSTRALIA

Understanding Company Law 21st Edition
Description
Understanding Comapny Law 21st Edition is a leading text for both undergraduate law and business law students of corporations law. This edition has been updated throughout to include discussion of the most recent legislative developments.
Resource Downloads
Instructor Supplements
Please note: these resources are ONLY for the use of lecturers who have prescribed the relevant text. Please email tlrap.academic@thomson.com to request access.