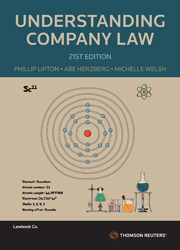 Understanding Company Law 21st Edition
Book

Date: 21/12/2021

Code: 9780455246277

Lawbook Co., AUSTRALIA

Understanding Company Law 21st Edition
Description
Understanding Company Law is a leading text for both law and business students undertaking the study of company law. This 21st edition has been updated to include the significant changes in the law that have taken place since the previous edition was published. The main legislative changes and proposals discussed in this edition include:
• The Treasury Laws Amendment (Combating Illegal Phoenixing) Act 2020 (Cth) which was a response to the increased use of phoenix companies to defeat the claims of creditors. It provided for new criminal offences and civil penalties where officers engaged in conduct that resulted in a company making a prohibited "creditor-defeating disposition" of company property. It provided for such dispositions to be voidable if made by an insolvent company and expanded the powers of ASIC and liquidators to recover property or seek compensation where the legislation is contravened. This is discussed in Chapters 18 and 32.
• The Treasury Laws Amendment (Registries Modernisation and other Measures) Act 2020 (Cth) was also a part of the phoenix reform package aimed at reducing and deterring illegal phoenix activity. It introduced a requirement that anyone seeking to be registered as a director must first obtain a director identification number (DIN). This is discussed in Chapter 12.
• The Corporations Amendment (Corporate Insolvency Reforms) Act 2020 (Cth) provided for a new formal debt restructuring process and simplified liquidations for financially distressed small companies. The restructuring process allows a faster, simpler restructuring of debts and aims to maximise a company's chances of survival. The processes are discussed in Chapters 31 and 32.
• The Hayne Royal Commission made many recommendations in relation to misconduct in the financial services industry. A number of these were adopted in amending legislation discussed in Chapter 26.
• The Treasury Laws Amendment (2021 Measures No 1) Act 2021 (Cth) made permanent significant reforms introduced initially as temporary measures to enable companies to hold meetings and execute documents during times when COVID-19 restrictions applied. These measures have proved to be convenient and cost effective for companies and led to calls to make the changes permanent. The Act allows the use of technology to enable wholly virtual and hybrid shareholder meetings to be held and documents to be executed by electronic means without the need for meeting in person.
This edition also incorporates many new cases throughout the text.
Features
RESOURCES
Understanding Company Law is supported by the following resources:
Lecturer Answer Guide to end-of-chapter tutorial questions
Lecturer Powerpoint Slides
Mentor – A collection of interactive online multiple choice questions. Self-testing questions available for students and assessment questions available for lecturers. Login here: https://mentor.mcqi.com.au/mentor/corporations_law.
uclaw.com.au – Designed to complement the book, this site has been set up to provide further research and indepth reading for lecturers and students, and includes links to recent legislation and accompanying explanatory memoranda.
Table of Contents
1 Regulatory framework
2 Registration and its effects
3 Types of companies
4 Constitution and replaceable rules
5 The company's relations with outsiders
6 Promoters and pre- registration contracts
7 Fundraising
8 Share capital
9 Membership
10 Dividends
11 Debentures and personal property securities
12 Directors
13 Overview and summary of directors' duties
14 Corporate governance
15 Directors' duties of good faith and proper purpose
16 Directors' conflicts of interest duties
17 Directors' duties of care, skill and diligence
18 Directors of insolvent companies
19 Remedies and penalties for directors' breach of duty
20 Exoneration and relief for directors' breach of duty
21 Shareholders' meetings
22 Financial reporting and disclosure
23 Auditors
24 Members' remedies
25 Takeovers
26 Financial services and markets
27 Managed investments
28 ASIC's investigatory and information- gathering powers
29 Corporate insolvency
30 Receivership
31 Voluntary administration, deed of company arrangement and restructuring
32 Liquidation
Tables - Cases, Corporations Act, Corporations Regulations, Australian Securities and Investments Commission Act, Codes, Statutes.
Index
Resource Downloads
Instructor Supplements
Please note: these resources are ONLY for the use of lecturers who have prescribed the relevant text. Please email tlrap.academic@thomson.com to request access.