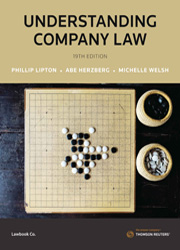 Understanding Company Law 19e ebk
eBook - ProView

Date: 30/11/2017

Code: 9780455240220

Lawbook Co., AUSTRALIA

Understanding Company Law 19e ebk
Description
Understanding Company Law 19th edition is a leading text for both undergraduate law and business law students of corporations law. This edition retains the structure and features of earlier editions. It has been updated throughout to include discussion of the most recent relevant legislative developments, including the following:
The Insolvency Law Reform Act 2016 (Cth) is the most comprehensive reform of bankruptcy and corporate insolvency laws in more than twenty years. It inserted into the Corporations Act a new s 600K which incorporates the Insolvency Practice Schedule (Corporations) which sets out the main provisions relating to companies under voluntary administration; subject to a deed of company arrangement; in liquidation or provisional liquidation.
The most significant features of the Insolvency Practice Schedule (Corporations) are:
removal of the distinction between official and registered liquidators;
enhanced registration and disciplinary frameworks applicable to registered liquidators;
significant changes to rules dealing with remuneration of external administrators;
enhanced creditor rights that enable creditors to remove a registered liquidator and appoint a replacement and make reasonable requests for information and records; and
the right of ASIC and the court to appoint a registered liquidator to review the performance of an external administrator.
This legislation is discussed in Chapters 22 to 25.
The Corporations Amendment (Crowd-sourced Funding) Act 2017 (Cth) established a new regulatory framework to facilitate crowd-sourced funding by small unlisted public and proprietary companies.
This legislation replaces the provisions dealing with prospectuses and other fundraising disclosure documents in relation to crowd-sourced funding offers. It sets out eligibility requirements for a company that wishes to make an offer under this new regime and regulates such offers and intermediaries including rules dealing with defective disclosure documents and advertising restrictions. This legislation is discussed in Chapter 7.
The Corporations Amendment (Professional Standards of Financial Advisers) Act 2017 (Cth) aims to raise the education, training and ethical standards of financial advisers who provide personal advice on more complex financial products to retail clients. This is discussed in Chapter 19.
The Treasury Laws Amendment (2017 Enterprise Incentives No 2) Act 2017 made two important reforms. These involved the creation of a safe harbor insolvent trading defence for directors and a new ipso facto regime. The safe harbour defence protects directors from personal liability where they start developing one or more courses of action that are reasonably likely to provide a better outcome for the company than an immediate liquidation or administration. The ipso facto regime prevents a creditor from using the company's financial position at the time of a scheme of arrangement, administration or receivership to trigger the creditor's right to enforce the loan. The safe harbour defence and the ipso facto regime are discussed in Chapters 13.5 and 24 respectively.
Recent significant cases covered in this edition include:
ASIC v Cassimatis (No 8) [2016] FCA 1023 (directors' duty of care discussed in Chapter 13.4);
In the Matter of HIH Insurance Ltd [2016] NSWSC 482 (misleading or deceptive conduct in relation to a financial product discussed in Chapter 19).
Table of Contents
1. Regulatory framework
2. Registration and its effects
3. Types of companies
4. Constitution and repalceable rules
5. The company's relations with outsiders
6. Promoters and pre-registration contracts
7. Fundraising
8. Share capital
9. Membership
10. Dividends
11. Debentures and personal property securities
12. Directors
13. Corporate governance and duties of directors
14. Shareholders' meetings
15. Financial reporting and dislosure
16. Auditors
17. Members' remedies
18. Takeovers
19. Financial services and markets
20. Managed investments
21. ASIC's investigatory and information gathering powers
22. Corporate insolvency
23. Receivership
24. Voluntary administration
25. Liquidation
Resource Downloads
Instructor Supplements
Please note: these resources are ONLY for the use of lecturers who have prescribed the relevant text. Please email tlrap.academic@thomson.com to request access.
*
eBooks and packages including an eBook may not be returned once the software key has been supplied. Your rights as a customer to access and use the ProView™ software and a ProView eBook are subject to acceptance of the ProView content licence agreement.
NB
An email with a registration key and instructions for accessing your eBook will be sent after checkout. For existing ProView users the eBook will appear in your library after checkout.

Forthcoming/pre-order eBooks will be available after the publication date.

The ProView app is not currently available on Kindle. See the latest system requirements