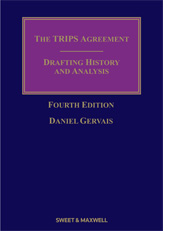 TRIPs Agreement (Gervais) 4th Edition
Book

Date: 23/11/2012

Code: 9780414023130

Sweet & Maxwell, UNITED KINGDOM

TRIPs Agreement (Gervais) 4th Edition
Description
Author, Daniel Gervais was actively involved in the TRIPS Agreement negotiations in 1990-91, and presents here a distinctive and insightful explanation of the history and background of the Agreement.
New in the 4th edition:
The most significant change is the addition of four early versions of the TRIPS text in the article-by-article analysis in Part II, with underline and strike-through to show the changes, which chart the evolution of the final text of the Agreement
The 1991 "Dunkel" text is incorporated in the commentary and compared to other versions (instead of being included in an annex)
The early history of TRIPS as it was pre-negotiated outside of the General Agreement on Tariffs and Trade (GATT) is significantly enhanced
The commentary on each article is updated and revised to reflect dispute-settlement panel reports and other developments, including the fate of the Doha Round later this year and relevant bilateral and regional negotiations.
More on the role of the dispute-settlement mechanism.
FEATURES:
Provides a complete background by following the history of the TRIPS Agreement
Demonstrates the effect of the TRIPS Agreement through analysis of recent cases
Presents an insightful article-by-article analysis of the full TRIPS Agreement negotiations
Includes relevant dispute settlement cases and the ongoing panel discussions to reflect the developments which have occurred since 1995
Takes into account the latest Doha Development Round discussiona to bring to light the current international issues relating to the TRIPS agreement
Analyses the rising trend of bilateral agreements and the implications for practitioners working in the countries party to those
Anticipates the future impact the TRIPS Agreement will have on the international IP framework
Written by the leading authority on the TRIPS Agreement, Professor Gervais' active involvement in negotiations ensures that this book presents a distinctive and insightful explaination of the history and background of the Agreement.