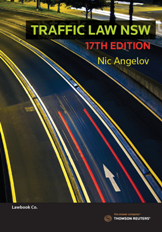 Traffic Law New South Wales 17e - Book
Book

Date: 25/10/2017

Code: 9780455500683

Lawbook Co., AUSTRALIA

Traffic Law New South Wales 17e - Book
Description
Traffic Law NSW 17th Edition is an established and reliable guide to road and traffic legislation in New South Wales, containing the most relevant road transport legislation in one volume, extracted from the Motor Vehicle Law New South Wales subscription service.
It provides an invaluable source of practical information about motor vehicle law and its application in New South Wales.
This 17th Edition reflects a range of statutory and case law changes. Legislative developments include:
Road Rules 2014 – amendments relating to the definition of approved motor bike helmet, keeping a safe distance when passing a bicycle rider, proceeding at intersection when bicycle crossing light is green, medical exemption to wearing of seatbelts, use of mobile phones and exemption from wearing motor bike helmets;
Road Transport Act 2013 – amendments regarding testing for alcohol and drug use, liability for camera recorded offences and parking offences, and digital driver licence trials;
Road Transport (General) Regulation 2013 – insertion of mass, dimension and load requirements for light vehicles and light combinations;
Road Transport (Driver Licensing) Regulation 2008 – new clause on variation, suspension or cancellation of licence for heavy vehicle dimension requirement offences;\
Road Transport (Vehicle Registration) Regulation 2007 – new clause about the release of information in register to SIRA;
Heavy Vehicle National Law – a wider range of changes including thiose regarding tampering with electronic work diaries;
Heavy Vehicle (General) National regulation (NSW) – new clauses regarding payments into funds and increased fee amounts; and
Heavy Vehicle (Vehicle standards) National regulation (NSW) – amended affecting measurements of vehicle width.
Many case law developments are considered, including the following matters:
automatic disqualification by statute in Director of Public Prosecutions (NSW) v Armstrong;
discussion of the phrase "at the time concerned", as relevant to the defence, in Director of Public Prosecutions (NSW) v Bignill;
the risk where admission of evidence could render a trial unfair is examined in Police v Dunstall;
police powers to conduct breath tests displacing private property common law rights in Pringle v Everingham;
effecting someone to leave private property for a breath test constituting unlawful arrest, in Nash v State of New South Wales;
RBT powers cannot be used to justify the arbitrary stopping of vehicles, interrogating of occupants or searching of vehicles for crime detection, in R v Buddee;
failure to implement a system of fatigue management, in Palfrey v Spiteri; and
the offence of dangerous driving occasioning grievous bodily harm, in Director of Public Prosecutions (NSW) v Sonter.
Traffic Law NSW 17th Edition is an essential guide for legal practitioners, law enforcement personnel and anyone else involved in the application and interpretation of road and traffic law in NSW.
Table of Contents
Author's Introduction
Table of Cases
Road Rules 2014
Road Transport Act 2013
Road Transport (General) Regulation 2013
Road Transport (Driver Licensing) Regulation 2017
Road Transport (Vehicle Registration) Regulation 2017
Heavy Vehicle (Transitional) National Regulation (NSW)
Heavy Vehicle National Law (NSW)
Heavy Vehicle (General) National Regulation (NSW)
Heavy Vehicle (Vehicle Standards) National Regulation (NSW)
Heavy Vehicle (Mass, Dimension and Loading) National Regulation (NSW)
Heavy Vehicle (Fatigue Management) National Regulation (NSW)
Heavy Vehicle (Adoption of National Law) Act 2013
Heavy Vehicle (Adoption of National Law) Regulation 2013
Roads Act 1993 [Extracts]
Roads Regulation 2008 [Extracts]
Tables – Offences and Penalties
Tables – Technical Information
Index