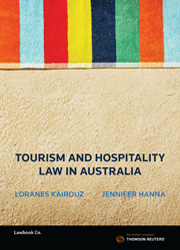 Tourism and Hospitality Law in Australia
Book

Date: 15/03/2018

Code: 9780455237107

Lawbook Co., AUSTRALIA

Tourism and Hospitality Law in Australia
Description
The first edition of Tourism and Hospitality Law in Australia is a well thought out and easy to understand guide to the major laws applicable to the tourism and hospitality industry.
This book features well-structured and titled chapter headings that make it readily accessible in navigating and finding legal issues that are relevant to the tourism and hospitality industry. The topics covered include:
An introduction to the legal environment and the tourism industry;
An overview of consumer claims;
An introduction to the key elements of negligence;
An overview of the essential concepts of contract law and how they relate to the tourism and hospitality industry;
Consumer protection laws and how it relates to tourism and hospitality; and
A discussion of the laws applying to various tourism and hospitality industry service providers including travel intermediaries, carriers, accommodation and food and beverage providers, attractions and recreational services.
Some useful features of this book include flowcharts, quizzes and chapter review questions and summaries. The authors have adopted a user-friendly writing style providing readers with a concise and clear approach to understanding key legal concepts.
The book has been specifically designed for students studying tourism and hospitality, law or business management. It is also a valuable resource for tourism industry professionals, academics, government bodies and lawyers seeking a comprehensible and practical insight into the key legal issues facing the industry.