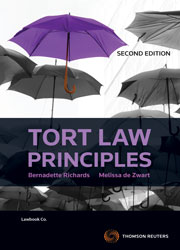 Tort Law Principles 2e
Book

Date: 21/12/2016

Code: 9780455238029

Lawbook Co., AUSTRALIA
Description
Tort Law Principles 2nd edition provides a concise overview of the key concepts and principles of the law of tort. Significant commentary together with supporting cases, problem and tutorial questions, flow charts and tables, all assist the student to further their understanding and assess their knowledge.
This edition sees a revision of all chapters to bring them up to date. We are now able to provide more practical illustration and explanation of the application of the Civil Liability Acts
The significance of the different wording in each jurisdiction is now becoming more apparent thanks to wider judicial activity, where relevant these are discussed.
There has been some significant judicial engagement with some key tortious principles including in pure economic loss, mental harm, trespass to the person, trespass to goods and defamation. There is an increasing recognition of a unique Australian law of torts and we have stronger Australian authorities to refer to. All chapters now have appropriately updated references and have been revised for readability and accessibility to law students
Tort Law Principles 2nd edition takes the discussion of tort taw one step further than other basic texts by providing two new chapters exploring the boundaries of tort law. Of significance is the chapter on defamation in the online world. This discussion provides insight into the growing impact of social media on human interaction and therefore the law. The second new chapter considers the outer limits of negligence in the context of medical treatment and provides practical insight into how well established legal concepts can be applied in unique situations. These two chapters combine to give students an up-to-date application of well established principles they have studied in principle elsewhere in the text. It is the must have reference, and will support a clear and solid understanding of the law of tort in Australia.
This book provides a comprehensive and accessible text covering the major aspects of tort law. Tort law is a dynamic part of the legal landscape and is ever evolving and this text presents the law to students with careful consideration of both case law and legislation.