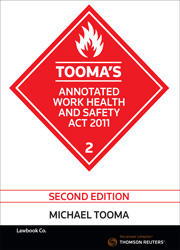 Tooma's Annotated Work Health and Safety Act 2011 Second Edition - Book & eBook
Book+eBook

Date: 28/06/2017

Code: 42097498

Lawbook Co., AUSTRALIA

Tooma's Annotated Work Health and Safety Act 2011 Second Edition - Book & eBook
Description
Tooma's Annotated Work Health and Safety Act 2011 Second Edition provides an authoritative and easy-to-navigate, annotation of the national work health and safety (WH&S) law in Australia.
In this precise annotation of the uniform WH&S law, leading practitioner and experienced author, Michael Tooma, uses the New South Wales enactment of the model legislation as his basis, with comparative tables referencing the law in other jurisdictions.
Through his authoritative, section-by-section commentary, and analysis of the new duties and obligations, the author shares his insights into the how the national WH&S regime is developing.
Michael Tooma draws on the latest case law to update the work with key developments since commencement of the uniform WH&S regime in 2011. These include decisions relating to:
New interpretations of how the duty to workers interacts with the duty to others.
Application of the general duty including a record penalty
Horizontal consultation obligation
Definition of officer
Regulatory powers under s. 155 and s. 171
Judgements considered include WorkSafe v Rowson, DPP v Kidman, Kenos Contractors, Boland v TAPS, Perilya v Nash, Hunter Quarries, and the Al-Hassani case.
For practitioners advising employers, or WH&S professionals in an office, project, factory, shop or store, this work is the go-to resource.
Tooma's Annotated Work Health and Safety Act 2011 Second Edition equips practitioners and WHS professionals with the material required to understand and implement compliant WHS strategies, and to litigate on WHS issues in the courtroom.
*
eBooks and packages including an eBook may not be returned once the software key has been supplied. Your rights as a customer to access and use the ProView™ software and a ProView eBook are subject to acceptance of the ProView content licence agreement.
NB
An email with a registration key and instructions for accessing your eBook will be sent after checkout. For existing ProView users the eBook will appear in your library after checkout.

Forthcoming/pre-order eBooks will be available after the publication date.

The ProView app is not currently available on Kindle. See the latest system requirements