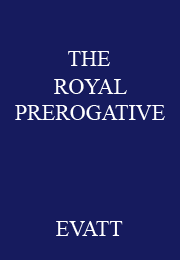 The Royal Prerogative - PDF
PDF

Date: 01/01/1987

Code: 30130426

Thomson Reuters, AUSTRALIA

The Royal Prerogative - PDF
Description
The Royal Prerogative was written by distinguished Australian jurist, lawyer and diplomat Dr H V Evatt in 1924 for the award of his LLD from the University of Sydney. The work was only first published many years later in 1987, with additional commentary by Professor Zines.
It is considered as one of most insightful examination of the often obscure character and nature; that aspect of The Crown: the prerogative powers.
This rare title provides fascinating insights into Dr Evatt legal scholarship and sheds an invaluable light on this still often little examined area of Crown powers and authority.

*
By downloading this PDF file you agree to the following: 1. That the file is for your sole use and purpose; 2. You may print this file but only if it is for your personal use; 3. You will not share or make copies of the PDF file (in any format) and will not permit the file to be published or distributed in any other way which is contrary to personal use. You should note that this material is copyright protected and may only be used as noted above. Please contact us if you seek additional permission to reproduce this content or would like any further information.