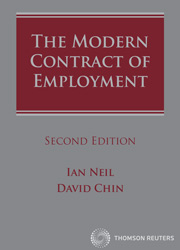 The Modern Contract of Employment Second Edition - Book
Book

$102.80* $257.00 RRP Save: $154.20 (60%)

Date: 28/09/2017

Code: 9780455238227

Lawbook Co., AUSTRALIA

The Modern Contract of Employment Second Edition - Book

Sale Price:

$102.80

Saving: $154.20
Description
Leading employment law experts, Ian Neil SC and David Chin of the NSW Bar, have updated their landmark Australian text dealing with the modern contract of employment. Now cited by the Federal Court of Australia, the Victorian Court of Appeal, the Supreme Court of NSW, the Federal Circuit Court, the Full Bench of the Fair Work Commission and the Workers Compensation Commission of NSW, Modern Contract of Employment is written by practitioners, for practitioners, and sets out what the Australian law is and where to find it.
The authors' sharp, clear and incisive analysis is made accessible for barristers, solicitors, academics and students by a succinct and expository style. Focusing specifically on the law of employment contracts, it offers in-depth analysis of the modern common law of the contract of employment, written in a concise way that aims to provide answers, not more questions.
The Second Edition has been thoroughly reviewed and updated to reflect the evolution of the contract of employment in Australia. New developments featured in the work include:
New section analysing the authorities on the existence, nature and content of the implied duty of good faith and its application to contracts of employment - following the demise of the implied term of mutual trust and confidence in Commonwealth Bank of Australia v Barker.
Analysis of the application of the duty of good faith in the context of termination.
Assessment of State, federal and international positions on the question of whether the good faith term is implied by law in every contract.
The effect of statutory or award provisions regulating notice on the implied term of reasonable notice.
Consideration of the incorporation by reference of workplace policies, awards and collective agreements into a contract of employment.
Further clarification of the test for identifying a contract of employment.
New section on the distinction between casual and permanent employment.
Analysis of an employee's right to silence.
Recognition of a species of non-repudiatory misconduct sufficient to justify summary termination.
New section on whether an employee's post-employment restraint of trade obligations survives the termination of the contract of employment, by the employee accepting the employer's repudiation of the contract.
Confirmation of the correct approach to assessing damages for wrongful dismissal, with the resolution of divergent state and federal opinions.
Assessment of the availability of damages, for the diminution in a dismissed employee's prospects of obtaining new employment.
Recent pronouncements on the willingness of courts to order specific performance of contracts of employment, including in Network Ten Pty Limited v Seven Network (Operations) Limited.
Modern Contract of Employment quickly established itself as the leading text in its field. The Second Edition maintains that position with its erudite and current analysis of employment contracts in Australia.