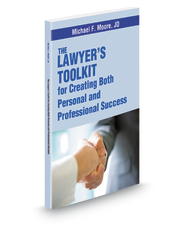 The Lawyer's Toolkit for Creating Both Personal and Professional Success
Book

Date: 03/05/2013

Code: 9780314289186

West Group, USA

The Lawyer's Toolkit for Creating Both Personal and Professional Success
Description
The Lawyer's Toolkit for Creating Both Personal and Professional Success provides an incredible amount of practical guidance and is an essential resource for the lawyer's library. The book can be used as a quick-reference guide for individuals or as a teaching tool in lawyer development and mentoring programs. The book's short, "how-to" chapters highlight all of the nonlegal skills necessary for today's professional lawyer – backed by illustrative, real-life examples. Key topics include:
Learning effective networking skills and expanding your "human web" of contacts
Refining your personal marketing by creating your "elevator speech"
Learning how to work a room
Mastering basic business etiquette
Law firms will also benefit from targeted discussions on team selling, time management, and law firm leadership strategies. With this resource, lawyers can select specific techniques and apply them in a customized fashion to their unique personality and practice.