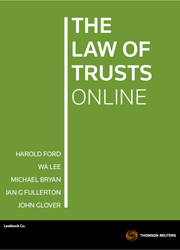 The Law of Trusts Ford & Lee
Looseleaf

Date: 03/08/2012

Code: 30116688

Lawbook Co., AUSTRALIA

Enquiry Sent

A member of our support team will be in touch with you within 1 business day.

Sales Enquiry Form

The Law of Trusts Ford & Lee

For questions about how to use this product or to get help with your account please visit the Help Centre or Contact Support directly.
Description
Authors Tony Lee, Michael Bryan and John Glover have a well earned reputation as foremost authorities in this area, as is evidenced by the number of times their work has been cited in cases. Their robust treatment of the subject of trusts makes it the essential guide to all major topics in the area of trusts law. Guest author Ian Fullerton, a specialist in taxation law, writes on trusts and the taxation of trust income.
The Law of Trusts: Ford & Lee offers a general and comparative view of trusts legislation in all Australian jurisdictions and assists in interpreting the meaning of comparative Acts in the local jurisdiction. Detailed attention is paid to the underlying general principles and the impact of recent developments in trust law. Relevant legislation is reproduced by jurisdiction and features cross-references to commentary paragraphs where the provisions are discussed in context.
A useful table cross referencing the Trustee Act 1925 (UK) to trustee legislation in the Australian States and Territories, New Zealand, Jersey, the Cayman Islands and the American Uniform Trust Code is included.
Features
Expert authors, including WA Lee (honorary member of the Society of Trust and Estate Practitioners UK and Patron of the Queensland Chapter of STEP);
Comprehensive coverage of the intricacies of trusts law;
Regular addition of new case law and updated commentary;
National coverage of trust legislation in each State of Australia;
Reference to the American Uniform Trusts Code, the Trusts (Jersey) Law of 1984 and the Cayman Islands Trusts Law (2014) Revision.
* . Price is for an annual subscription and includes all updates issued during this period.