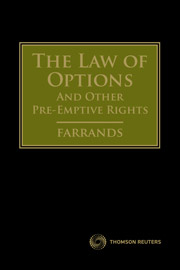 The Law of Options & Other Pre-emptive Rights
Book

Date: 02/12/2009

Code: 9780455226316

Lawbook Co., AUSTRALIA

The Law of Options & Other Pre-emptive Rights
Description
This seminal work on options and other pre-emptive rights in Australia offers a one-stop resource for any legal or tax-based questions about the drafting, exercising and assigning of pre-emptive rights.

Topics covered include:

• Pre-Emptive Rights Generally
• The Nature Of An Option
• Elements Of A Valid Option
• Exercising An Option
• Assigning An Option
• Remedies For Breach Of Option
• First Rights Of Refusal
• Labelled Pre-Emptive Rights Bearing Other Characteristics
• Pre-Emptive Rights In Joint Venture Agreements

The Law of Options by Donald Farrands (1992) returns reworked, expanded and updated, to provide a concise, invaluable guide to practitioners. It is an essential resource.

Editorial Reviews
From: (2011) 85 ALJ 384
Reviewed by: Mr Justice P W Young
This book is a sequel to the author's book "The law of Options" published by the Law Book Co in
1992. That work was reviewed by David Maclean in "Book Reviews" (1993) 67 ALJ 163 at 165.
David wrote that this book was a good exposition of the authorities, though showing that the author's interests lay in the practical rather than theoretical realm. However, he recommended the book as valuable to the profession and likely to be popular.

The present book contains an update of Chapters 1-4 of the former book which now appear as Part II and are Chapters 2-5. Chapters 5 and 6 of the earlier book dealing with tax matters have been abandoned. Part II has been supplemented by a further excursus on "Remedies for Breach of an
Option" (Chapter 6).

What is new are Part 1, Chapter 1, "Pre-emptive Rights Generally", Part III, "First Rights of
Refusal", Part IV, "Labelled Pre-Emptive Rights Bearing Other Characteristics", and Part V,
Chapter 9, "Pre-emptive Rights in Joint Venture and Shareholder Agreements".

Other than Chapter 9, the new material is a fair discussion of the issues such as when, if at all, an exercised right of pre-emption becomes an interest in land.

I found Chapter 9 on pre-emption rights in the constitution of private companies etc, a little disappointing. Having had to examine the problems on hundreds of occasions over the last 50 years or so, I found the chapter really only scratched the surface. It may be that the strictures on the size of the volume constrained the author, and the subject matter is only indirectly related to the rest of the text. However, if one considers that a subject needs to be treated in a monograph focused on a discrete topic, one should cover it thoroughly.

Despite the author pointing out on a couple of occasions that decisions of mine seemed to stand
outside prevailing views elsewhere, I found this book a useful addition to an equity lawyer's library.