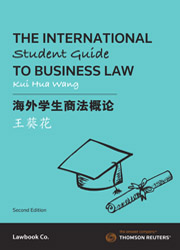 The International Student Guide to Business Law 2nd ed ebk
eBook - ProView

$73.60* $92.00* RRP Save: $18.40 (20%)

Date: 30/01/2019

Code: 9780455240466

Lawbook Co., AUSTRALIA

The International Student Guide to Business Law 2nd ed ebk

Sale Price:

$73.60

Saving: $18.40
Description
The International Student Guide to Business Law, 2nd edition is an innovative text specifically designed to provide an essential guide for international Chinese language students.
Written in Chinese and English, the book offers succinct and accurate explanation of key concepts and principles in business and commercial law. The text covers contract law, consumer and competition law, corporations law, intellectual property, professional negligence, sale of goods and much more. It also provides a clear overview of the Australian legal system for the first time law or commerce student.
Other features include:
references to supporting cases and relevant legislation
glossary
references to further reading.
The book provides a solid foundation for non-English speaking students, ensuring a high capacity to understand the subject area quickly, correctly and with growing confidence.
An essential learning tool for international commerce or business law students.
Table of Contents
Introduction to Australian Business Law
Introduction to the Australian Legal System
Introduction to Contract Law
Offer and Acceptance
Intention to create a Legal Relationship
Consideration, Promissory Estoppel and Formalities
Contractual Capacity
Privity and Terms of the Contract
Genuine Consent
Discharge of a Contract
Remedies for Breach of Contract
Agency
Sale of Goods
Professional Negligence
Consumer Law
Intellectual Property Law
Competition Law
Advertising and Marketing Law
Corporations and Partnership
*
eBooks and packages including an eBook may not be returned once the software key has been supplied. Your rights as a customer to access and use the ProView™ software and a ProView eBook are subject to acceptance of the ProView content licence agreement.
NB
An email with a registration key and instructions for accessing your eBook will be sent after checkout. For existing ProView users the eBook will appear in your library after checkout.

Forthcoming/pre-order eBooks will be available after the publication date.

The ProView app is not currently available on Kindle. See the latest system requirements