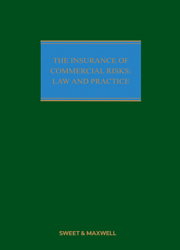 The Insurance of Commercial Risks: Law and Practice 5th edition
Book

Date: 13/12/2016

Code: 9780414057111

Sweet & Maxwell, UNITED KINGDOM

The Insurance of Commercial Risks: Law and Practice 5th edition
Description
The Insurance of Commercial Risks: Law and Practice advises on the overlapping area of insurance law and commercial liability, offering advice on disputes concerning the coverage of insurance policies. The book examines the fundamentals of insurance contracts, looking at the law governing the main liability insurances and the types of risk, exclusions and policy conditions involved in each.
Main features:
Commentary on the practice and application of insurance law when protecting against different commercial risks.

Provides concise advice for effectively evaluating the merits of a coverage dispute and explaining how the law applies to commercial insurance.

Examines the risks, policy conditions, exclusion terms, and exceptions for the main types of liability insurance: employers', public, product, Directors & Officers, warranty and indemnity, and commercial vehicle.

Covers the law relating to property risk: buildings, contents, carriers', theft by employee, contractors', and business interruption.

Explains fundamental principles of insurance law contracts such as conditions, warranties, and the duty of disclosure.

Defines the role and liabilities of insurance brokers and other intermediaries.

Outlines the relevant aspects of the claims process, including calculating indemnities and the rights of third parties and insurers.

Details key topics that arise in litigation such as disclosure and issues surrounding jurisdiction.
New to the 5th edition:
Updated to reflect the key legislative changes implemented by the Insurance Act 2015, including the relevant implications of the Enterprise Act 2015 on this act.
A comprehensive new chapter on the interpretation of insurance contract terms analysing warranties and insurance conditions, conditions precedent, claims co-operation and claims control clauses.
A new chapter on the Third Parties Rights Against Insurers Act 2010, which came into force in 2016.
A thorough update of case law developments in areas including employer's liability insurance, motor vehicle insurance, business interruption insurance and the principle of indemnity and subrogation.